The Outsiders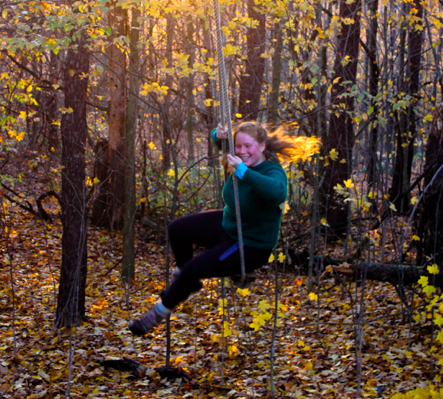 By Melia Robinson, Photos by Trevor Zalkand
A fierce game of Kings unfolds among friends in a Clarendon Street house on a Friday night. A thin blonde draws a 10-card from the deck splayed across the cramped dining room table. "Yes! Categories," she says, placing the card face up. She taps her unpainted fingernails on her lips as the others cradle glasses of rosé wine and chat about the next day's camping trip. The female SUNY-ESF students present wear jeans, chunky wool sweaters, weatherproof fleeces, and slivers of eyeliner. " Latin names of animals," she announces.
"Nooooooo," the group moans.
"Too broad. The game would go on forever," Kialey Day, a senior natural history major and president of their SUNY-ESF club, Primitive Pursuits, says. "Just mammals," someone suggests.
"Of North America!" another adds.
A guy wears a black T-shirt emblazoned with the logo of the Wilderness Awareness School, which offers a nine-month survival program on the West Coast. Scratching a patch of scruff on his upper lip he begins, "Canis latrans." They continue in a counter-clockwise motion.
"Vulpes vulpes."
"Odocoileus virginianus."
"Procyon lotor."
"What is that?" asks Emilie Rigby, a junior environmental and watershed science major, whose overgrown auburn pixie cut gives her the appearance of a wood nymph. "Raccoon," Day says.
"Prooo-see-yawn lotooor," Ribgy exhales. "That's a sexy name!" Their giggles drown out Florence and the Machine playing in the background, ending the round of cards.
Ian Skor, a senior forest engineering major and the lone male officer of Primitive Pursuits, draws another card from the deck. Skor brushes chestnut hair away from his eyes and says, "King. Never Have I Ever." Everyone lifts three fingers as Rigby, embarrassed, looks away.
"Never have I ever … climbed a tree," she whispers. Her admission elicits wails from the group.
"What?" someone says. "But you go to ESF. "
"We'll change that when we go camping this weekend," Day offers as she drops a finger.
"Never have I ever eaten roadkill," another student says. Five fingers slump.
Primitive Pursuits members represent the earthiest, crunchiest brand of SUNY-ESF students. They call themselves feral humans, like "wild children" raised by wolves, or grizzly mountain-men opposed to bathing. In its fourth year at the college, the club promotes connecting with the wilderness through practicing subsistence activities that provide the bare essentials for living. Every Friday these 20 students gather in Oakwood Cemetery or a classroom to learn a new survival technique like constructing shelters, identifying medicinal and edible plants, starting friction fires, preparing animal hides, and making rope and baskets. Their efforts support a revival of hunter-gatherer culture that fuses the simple-living concepts of Walden with the adventure of The Hunger Games.
New York State offers a wide variety of non-profit and privatized educational programming to foster relationships with nature and teach survivalist techniques. Primitive Pursuits frequently teams up with its founding chapter in Ithaca, as well as a local meet-up group for nature enthusiasts—the WayKeeper Primitive Skills School—to build their arsenal of skills. Founded by Jon Harshbarger in 2009, the WayKeeper school provides affordable, semi-monthly workshops for like-minded sportsmen and women in the area. Since then, membership has steadily risen from three participants to 20. According to Harshbarger, skills relating to self-sufficiency in the wilderness have risen in popularity thanks to survival-themed shows like Revolution, Survivorman, and Alaska: The Final Frontier. In anticipation of the movie adaptation of The Hunger Games, bow hunting participation increased 19 percent in 2011, according to the Outdoor Foundation. Trail running, fishing, and hunting topped the list of most popular outdoor activities among adults ages 18 to 24.
"When we look at the land, it's easy to say the land is broken. But it's our relationship to the land that's broken," says Robin Kimmerer, a SUNY-ESF professor of ethnobotany and the group's adviser. "Primitive activities are a wonderful way to re-establish that bond."
In October, the WayKeeper school welcomed novices and experts alike, including the SUNY-ESF club, to learn various survival skills—from building a simple shelter made of resources found in the woods, to fleshing a deer hide, the process of stripping an animal of its excess tissue after skinning.
Just 20 minutes from campus, the WayKeeper "classroom" encompasses 59 acres of forest in Pompey, N.Y. A clearing that stretches the length of a football field contains half a dozen log cabins, juxtaposed against fiery shades of foliage.The Primitive Pursuits members arrive first. Day, Skor, and two other female SUNY-ESF students pour out of a Honda Accord littered with Chipotle napkins.They race up the hill, taking turns riding piggyback.Trailed by Rigby and a SU freshman, they plop onto tree stumps and kick off their hiking boots.
The group doubles by 1:30 p.m. A middle-aged single mother wears mauve lipstick—the only woman with makeup. Her 5-year-old son cowers behind her and grips the loose fabric of her jeans.Two men chat behind them.They both wear baseball caps, one with a DSLR camera slung around his neck. As they wait for more to arrive, the conversation topic turns to ice fishing.
"Ever been?" the photographer asks.
"Too cold," shudders the rounder man, wearing plaid flannel lined with sheepskin. "That's a young man's game."
Primitive Pursuits vice president Mary Downey, a senior natural history major, swivels to face them. Her eyebrows furrow and she plants her hands on her hips. "Or young woman's game," she retorts.
"Honey, it's called maaaann-ual labor," the beefy lumberjack says as the others turn
to watch. Day, her palms already caked in dirt, approaches in defense. A small dagger swings from her belt loop.
"Mary," she asks coolly, "what was your best event when you were on the Woodsmen'sTeam?" The oldest club at SUNY-ESF, the Woodsmen compete against other colleges in cross-cut sawing, pole climbing, fire building, and other events. Downey's eyes dart back to the man.
"Axe throwing," she grunts.
Tension morphs into respect, and the group walks into the woods for instruction. Within an hour and a half, the shelter takes shape. Day and Rigby lay down in the coffin-like frame made of two long branches hanging overhead and smaller sticks propped against the sides and across the top.The young boy tries to rattle the structure, but it refuses to budge.The women wiggle out of the opening to help gather leaves, which trap heat, and toss them onto the shelter.
By late afternoon, the students relocate to the clearing for the hide-fleshing demonstration. Before a skin can be mounted to convert into leather goods, the excess flesh must be removed to prevent it from rotting. Harshbarger retrieves a raw deerskin from the back of his truck and flips it onto a wide plastic pipe jutting from the ground. As he demonstrates the proper technique, a circle forms around him.
Tiffany DellaVentura, a senior conservation biology major and secretary of Primitive Pursuits, drapes a rubber apron over her gray SUNY-ESF sweatshirt and cargo pants that zip off at the knee. She presses her body against the hide to keep it from sliding off the pipe and scrapes it with a dull, ruler- length blade in back and forth motions. She peels off sinew and scarlet chunks of fat, revealing patches of blubbery membrane.
Since Skor forgot his road kill woodchuck, which he hopes to make into a porch rug before his roommates discover it in the basement freezer, he skips the demonstration. Instead he grabs a longbow and sheath of arrows, hand-crafted by Day using dowels and pheasant feathers, and disappears into the tree line. Inside one of the log cabins, the girls unload three bags of sandwich supplies: potato and wheat bread, peanut butter, jelly, and granola. "We forgot silverware," one student says. Day brushes back her honey-blonde side ponytail and shrugs, reaching for the knife in her holster. She steps two paces into the woods, picks up a stick, and shaves the end into a point. "Voilà," Day says as she digs the splintered utensil into the peanut butter.
Compared to the hominess of the wilderness some SUNY-ESF students feel alienated, and outnumbered on SU's campus. However, through ties to groups like Primitive Pursuits, they perfect niche skills, and find acceptance among like- minded peers. Here, they feel understood. "Sometimes I forget that there is a huge university next to us, but we know we're different somehow," Day says. "We need each other because there are so few of us and so many of 'them.' [They think] we're granola-eating, tree-hugging, barefoot—"
"Tie-dye wearing dirty hippies," Downey finishes. "Some of that's true," Day laughs. "It's just what happened. I am how I am, butI'mnotastereotype."
While Rigby didn't get to climb a tree that weekend as Day promised, she bonded with the group, sneaked into a cornfield maze, and stayed up playing "Would You Rather" until the fire died.
Shortly after waking up at 10 a.m. the next day, the students cram into a car tightly packed with sleeping bags, wood chips, bows and arrows, and empty water bottles. During the short drive to campus, they quietly observe the panorama of farmland. Cell signals strengthen and Skor's phone buzzes to life. "Oh shit, my roommate texted me," he groans. "'What the hell is in our freezer,' followed by multiple question marks."Their laughter fogs the rearview mirror, obscuring the woods in the distance.