5 Albums You Need to Buy This Fall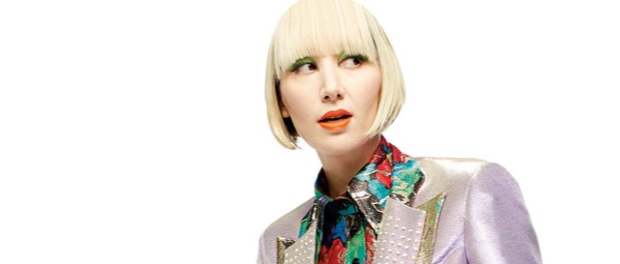 1. Karen O, Crush Songs
Release Date: September 9 Yeah Yeah Yeahs front woman Karen Orzolek is releasing her first full-length solo album Crush Songs, and heads will roll for this one. This album, written and recorded by Orzolek when she was 27, was inspired by her "ever-continuing love crusade," something I imagine we can all relate to — if not, call your cardiologist, because something's up with your heart. Unlike the most recent Yeah Yeah Yeahs album, we can expect an under produced, vintage, and vulnerable sound from Orzolek, reminiscent of the Moldy Peaches — you know, the band who sang that adorable song from Juno, "Anyone Else But You." *Cue muted sobs*
2. Alt-J, This Is All Yours
Release Date: September 22 For those of you into the bizarre — or if you're tripping balls, the totally normal — there is great anticipation for the ethereal electric rockers of Alt-J's upcoming album This Is All Yours. The band's released three singles from the album, including "Every Other Freckle" and "Hunger of the Pine," which features a teaser of twerk Queen Miley Cyrus singing the riff, "I'm a female rebel." Score one for Cyrus and her new hallucinogen induced persona! The third single, "Left Hand Free," otherwise referred to by the band as the "least Alt-J song ever," is more upbeat and strays from Alt-J's typical alien sound in an attempt to appeal to mainstream America. To get a full preview of This Is All Yours, watch Alt-J's performance on NPR's series Front Row.
3. Steve Aoki, Neon Future I
Release Date: September 30 Attention EDM fans: Veteran bass dropper Steve Aoki is dropping another album. While I can only imagine that each song will blend into the other and leave you with a pounding headache by the end, the album does have some promise. The song "Delirious (Boneless)" featuring Kid Ink incorporates a familiar beat and is a surefire banger. The album also features Fall Out Boy, which will be interesting if nothing else. So cheers to some new music to party to.
4. Weezer, Everything Will Be Alright in the End
Release Date: October 7 Weezer, yes Weezer, has been everywhere this summer, including Firefly and Lollapalooza, and even received rave review — good publicity for them with their upcoming album release. Weezer released its biographical single "Back to the Shack" which sounds like quintessential Weezer, reminiscing about "rockin' out like it's '94." If the rest of the album also provides a nostalgic sound of the 90s, it'll be gold.
5. Lil Wayne, Tha Carter V
Release Date: October 28 Remember Lil Wayne? The rapper who coined the term "drop it like it's hot," (no, it wasn't Snoop Dogg), and then almost died last year? Well, he and his career have been resurrected. Hot off of his tour with Cash Money cohort Drake, President Carter is dropping what is potentially his final studio album — because we've never heard that one before. While Lil Wayne has been somewhat irrelevant for the last couple years, his new album has promise. The hit single "Believe Me" featuring Drake is just one of many songs on Tha Carter V that will boast an elite featured artist. Others rumored to feature include Kanye West, J. Cole, the Weeknd, and Nas, just to name a few