7 Things You Probably Thought Ebola Was at First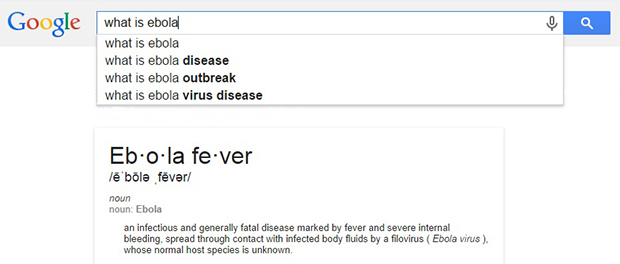 The Ebola virus has been making headlines since March when West Africa experienced the worst outbreak in history. For a while, the U.S. was not at risk, but that changed a couple weeks ago in September when a patient in a Dallas hospital was diagnosed with the virus after returning from a trip to Liberia. Now more than ever, Americans need to be both cautious and aware of the deadly virus.
When I first sat down to write this article, I knew I had a tough task ahead of me. It's pretty difficult to seemingly make light of a disease with an 88 percent mortality rate, and I'm not trying to make death funny, either. Thankfully, in the midst of my anxiety attack over how I could approach the dreaded topic, I looked to a friend for guidance.
"How the fuck am I supposed to write a web story on Ebola, that doesn't totally focus on the virus' liquefying tendencies?" I asked.
Her response: "Wait, what is that?"
And in that moment, a flawless transition into my next point was born. Americans are unaware and blatantly dumb — so dumb, in fact, that it's almost impressive. I can guarantee more students on campus know about the "Dog Eats Cereal" YouTube video than the Ebola virus. There are real people out there that still don't know, period. People who have families and parents that are genuinely proud of who they are. The world is a scary fucking place, but I'm not going to exclude myself from American stupidity, either.
When the Ebola talk first started up, I pretty much turned my head to the issue, much like how I disregard any "breaking news" on Taylor Swift... One day she's staring at the phone waiting for him to call and the next she's "shaking it off". My god, the girl is a living breathing contradiction. Make up your damn mind T-Swift. Your brand image is absolute shit.
Anyways, here are seven things you probably thought Ebola was for a decent 24 hours before realizing how brainless and insensitive you are.
1. Yogurtland's new flavor of the month. "Wait, they have Pumpkin Pie and Ebola… Hell yeah!" Hell no. No Ebola Yogurt for me today, thanks. I'll stick to a 12 oz. of Pumpkin Pie or maybe even Plain Tart if I'm feeling particularly basic.
2. Brad and Angelina's most recently adopted child. "Did you see the cover of People this morning? Brad, Angelina, and little Ebola." Wrong. So wrong.
3. A new fashion trend. "Apparently it was started in another country, but we officially have it here!"
4. That drug those "college kids" are doing. "Molly is so last year."
5. Essie's new line of nail polish. "I just can't decide. Wicked or Ebola?"
6. A new fall vegetable. "Zucchini's on its way out, but spaghetti squash and Ebola are both in stock."
7. You weren't sure what it was, but you heard Cady Heron brought it with her from Africa. When in doubt, always throw Lindsay Lohan under the bus… She totally threw Regina in front of it, anyway.