The 12 Best and Worst Moments From The Kumquacracy Forum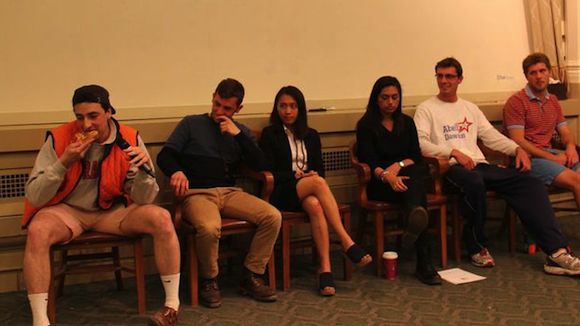 Student Association's elections are in full swing, with somewhere around five students (or more — who knows these days) vying to be Syracuse University's next student body president. After last night's debate hosted by the National Pan-Hellenic Council, we knew we couldn't pass up an opportunity for more shade interesting political conversation.
The Kumquat, SU's satirical news outlet, hosted "The Kumquacracy Forum" Tuesday night for the SA presidential elections, featuring both the the one official candidate and write-in candidates. Aysha Seedet, who is on the ballot, was there, though her VP Jane Hong was busy campaigning. Two write-in teams were also there: AJ Abell and Jon Dawson and Jesse Nichols and Moke Hein. This time Tatiana Cadet and Fatima Bangura couldn't make it, and Safet Mesanovic and Gener Romeu were absent yet again.
The debate also included Rocco Waverly, the Kumquat's pseudo candidate. See his promo video below:
https://www.youtube.com/watch?v=aL5Xhph4z_4
In order to help our dear readers vote wisely, we've compiled the best and worst parts of the evening (it's up to you to figure out which is which).
1. When Nichols and Hein strolled in with a platter of vegan biscottis. While the desserts were a bit hard to bite into at first, the middle was chewy and delicious. Clearly they know the way to our votes is through our stomachs.
2. Rocco's entire opening statement. First, a snippet from Snoop Dogg's "Smoke Weed Everyday" played. Then he said, "I'm a maverick, I'm the man of the people. I don't need a microphone" – though he eventually gave in and used one. Some of his ideas for his presidency include: Paving over ESF to build a new parking lot, since global warming isn't real; seasoned fries for breakfast, lunch, and dinner; and no RAs so we can smoke weed every day in the dorms. He wrapped it up with, "Bring Castle back. Impeach Kent."
3. When Seedat fiercely said, "Like, seriously?!" She was referencing the chancellor's two to three year evaluation for how long it'll take for SU to implement changes recommended by the Chancellor's Workgroup on Sexual Violence Prevention, Education and Advocacy.
4. Rocco's definition of SA. "SA is a group of five people who sit in the SA office and down-vote every Yak I post."
5. Seedat's face when Nichols just went on a whole rant about Chat & Dine, the program Seedat created as SA Student Life Chair that allows groups of students to get lunch with their professors. He said the program works too slowly and has had communication issues. Seedat did not look pleased.
6. When Rocco had a pizza delivered in the middle of answering a question. He proceeded to hand out slices to the crowd while Jeopardy music played.
7. Abell's references to meetings with "sexual assault groups" on campus, meaning groups like Girl Code and SASSE. The thing is, they're sexual assault advocacy groups… or prevention groups… or awareness groups. "Sexual assault groups" doesn't have such a great ring to it.
8. When transparency meant being physically outdoors. When asked how SA can be more transparent, Hein discussed how it's not healthy to not get into the sunlight all day, as she apparently thinks the SA representatives spend their entire day in the basement of Schine. She and Nichols proposed SA hold their meetings on the Quad (their platform is the principle of Om: equality, togetherness, compassion, and dedication, so, yeah).
9. When transparency meant more windows. Rocco's suggestion for how to make SA more transparent? Rebuild Schine with glass walls, obviously.
10. Learning the "history" of Boris Gresely, explained by Rocco. When the moderator asked the candidates how they feel SA is doing currently, Rocco discussed its current president. "How do I feel about Boris?" he said. "Let me tell you a little story." Rocco said they lived on the same floor freshman year and used to chill in Sadler and blaze. But then, he said SA changed Boris, who started to bring "randos" around, which was "definitely not chill." Rocco continued, "If Boris isn't chill, SA isn't chill. I'm chill. I'm the chillest dude on this stage." He ended with determining that Boris is a flake, and then stared intently at the Kumquat's camera for about 10 seconds.
11. Sassy back and forth with the audience. Danielle Reed, Cadet and Bangura's campaign manager, asked Seedat, Nichols, and Hein why they didn't attend Monday night's debate. They all responded that they had only been informed about it Monday morning. An audience member then fired back at Reed asking why her candidates weren't there tonight (turns out they were in class). Oh, the drama!
12. Abell's final words to end the debate. "Look at our cat pictures on our website!" Always a great idea.
Photos by Adham Elsharkawi