Comic Conversion to the Silver Screen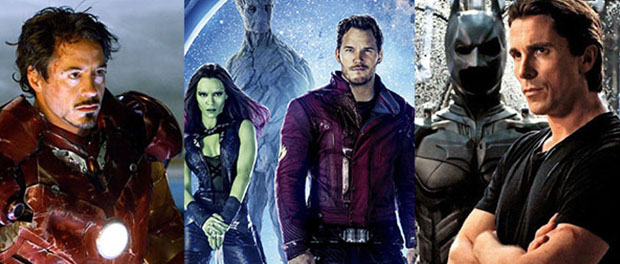 Whoever said comics were nerdy seriously needs to get themselves checked out. Like, seriously. Right now in Hollywood, shit can't get any hotter than comic-inspired films and now, television series.
First came the Iron Man film franchise, with not one, but two sequels. The original film, which was released back in 2008, racked in more than $585 million dollars. Even if you claim that comics aren't your thing, this movie is guaranteed to convert you over. If not just the movie, Robert Downey Jr.'s sexiness as Iron Man is sure to capture your attention.
In addition, this past summer, the film Guardians of the Galaxy blew up at the box office. Based on the Marvel Comics superhero team of the same name, and featuring huge names like Chris Pratt, Zoë Saldana and Bradley Cooper, this box office sensation can actually still be found playing at some theatres throughout the country. Yeah — that's how popular it is.
But it doesn't end there. Comics are now beginning to take over TV as well. This fall, don't miss any of these comic-based series. Trust us, you won't regret watching them.
Arrow Although Arrow isn't quite new on the scene, (its first season premiered back in 2012), the third season, premiering on the CW on October 8, is not something you're going to want to miss. The series is based on the DC Comics character Green Arrow, who secretly fights crime and corruption with just a bow and arrow. Not convinced yet? Okay, how about you just check out this photo of lead actor Stephen Amell, and then you can decide if you want to watch.
The Flash Now that Arrow has done so well, a spinoff series called The Flash, set in the same universe, is set to premiere on the CW on October 7. Based on another DC Comics character called Flash (totally big surprise there), the series follows the story of Barry Alien. Alien gets struck by lightning and after waking up from a coma, discovers he can move at superhuman speeds. He vows to use his new gift to protect the people of Central City in addition to tracking down his mother's murderer (he witnessed her murder as a child — reminds you of Dexter, huh?).
Gotham Now, if you loved The Dark Knight and the other Batman films, you have to catch Gotham. You have to. The brand new series premiered on FOX on September 22. It roped in 8.2 million viewers, and already looks like it's going to be a hit. Gotham will tell the story of a young Detective James Gordon and his early days on the Gotham City police force. Not only will you learn the story of Gordon, but also the origin stories of some other Batman villains, including Penguin, Riddler, Catwoman, Joker, Poison Ivy and Mr. Freeze. What more could a Batman fan ask for?