Diversity at The Emmys ... Oh Wait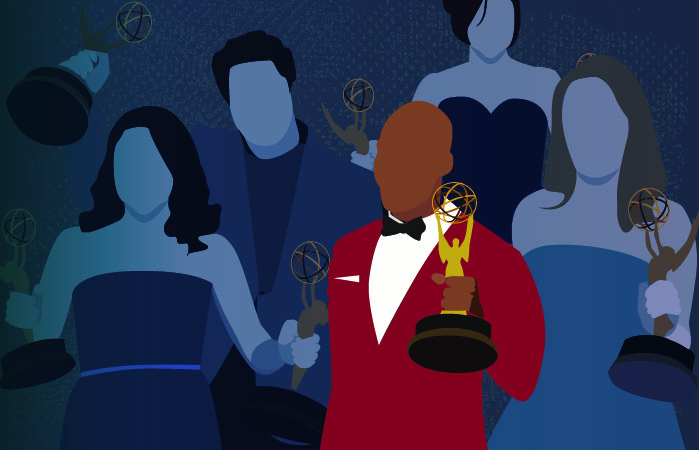 Not sure if any of you actually watched The Emmys last week, but if you didn't, make sure you go and watch the first skit from the show.
Basically, this year's Emmy Awards had the most diverse group of nominees in Emmy history. This is amazing, but at the same time, we're not quite there yet.

The opening skit of the award show was satirical and humorous because talking about diversity makes (white) people HIGHLY uncomfortable. It's 2018, and straight white males are still afraid that everyone is out to get them...go figure.

Our favorite line from the skit was, "we solved it," because people really seem to think that just because there is some diversity at award shows, we magically solved the centuries-long, systematic racism that is still highly prevalent in today's society.

Halfway through the skit, Andy Samberg drops down from the sky singing, "But what about me?"

This line conveys the idea that the straight, white male has this constant fear that women, people of color, or really anyone else that doesn't fit into their "box" are out to take their jobs. Furthermore, they don't want to lessen the hold they have in Hollywood, in business, or honestly in this country as a whole.

To put it lightly, we're not there yet people.

Let's discuss.

Sandra Oh

Well, Sandra Oh is the first Asian woman to be nominated for a lead actress Emmy award. Ever. It's 2018, so this is pretty absurd to me. Honestly, Kenan Thompson said it best, "There were none and now there is one." Instead of keeping the diversity numbers stagnant, we need to keep them on a steady and strong incline.

On another note...

Sandra Oh also looked unbelievably stunning...so let's pause to take a look.

Regina King

Out of the six actresses nominated for lead actress in a limited series, five of them were white. And Regina King, an amazing and inspiring actress of color, won. Love that for her. When her name was announced, King was not even paying attention. She didn't even expect to win while being up against five white women.

King's acceptance speech stole the show. She told everyone that she was so surprised that she dropped lipstick on her dress. Her surprise alone demonstrates the lack of diversity at these award shows and how she didn't even think she had a shot.

Do yourself a favor and take a look at her speech here:
King won the Emmy Award for her role in Seven Seconds, a Netflix original about a young African-American boy killed by a white cop in a hit-and-run. King winning for her role in a show that reflects real-world problems between African-Americans and white cops indicate that people are finally starting to listen.

PAUSE…

Let's take another second to appreciate her gorgeous dress as well. Girls supporting girls everyone; keep it up.


Thandie Newton
If you have not yet watched Westworld, you are seriously missing out. Thandie Newton is a total badass on the show and in real life. She's just super cool, and she got to take home an Emmy Award for best supporting actress in a drama.

There was more diversity in this section than in the previous section with Regina King. Even though each of the nominees in this category, aside from Newton, were white, there was diversity in age.

When it comes to diversity, we sometimes forget that there are many different types of diversity (We could go on forever). Age is a huge problem in Hollywood, and it really isn't discussed a lot. In this section, Millie Bobby Brown (14) and Ann Dowd (62) were included amongst the nominees. Let's hear it for representation!

Anyways, let's get back to Thandie Newton. The first thing she said during her acceptance speech was, "I don't even believe in God, but I'm going to thank her tonight." Like, DAMN.

And of course, let's take in her beauty.


Regina King, Sandra Oh, and Thandie Newton are three amazing women, and their achievements will further help the strides for more diverse nominees. So, while progress has been made in the area of diversity, again, we're not quite there. There is still a HUGE lack of representation amongst the nominees and the winners of Emmy Awards, continuing to prove that there is still much progress to be made. So, let's stay tuned for what happens next year, and hope that Hollywood learns that not everyone looks the same and that this should be reflected in what we see on the screen.