Everything That Happened When Oprah Visited 'Cuse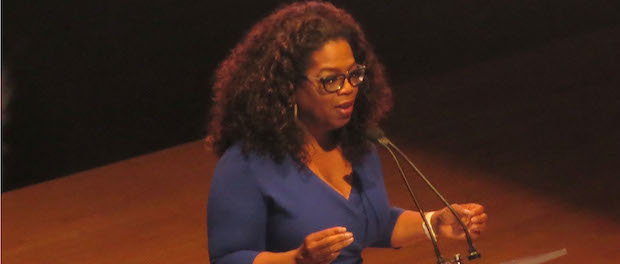 In case you didn't notice the major construction, large-scale media coverage, or mass hysteria and excitement around campus, we'll clue you in — Oprah came to Syracuse today.
Oprah was part of the dedication ceremony for an $18 million renovation of Newhouse 2 featuring Dick Clark Studios and the Alan Gerry Center for Media Innovation. The day (branded as #NewhouseStudio) included a series of media-related events, but we all know we were really just there for the queen of media (and maybe the free champagne).
The day included a luncheon, in which Newhouse donors, professors, and some lucky students got to wine and dine with Oprah herself...while the rest of us looked on from the balcony as if we were watching animals eat at the zoo. Nonetheless, we were breathing the same air as Oprah, so no complaints.
Seats were limited, but we've got your back. Here's a video of her entire inspirational speech, plus our live tweets throughout the day, from Goldstein Auditorium to the ribbon cutting on Waverly.
The line for #NewhouseStudio is getting pretty crazy. 1 hour and counting! #OprahAtSU https://t.co/RVFbR3Xuyv

— JERK Magazine (@jerkmagazine) September 29, 2014
For all you peasants who didn't score the hottest ticket in town, don't worry. We're live tweeting the whole thing #OprahDay #NewhouseStudio — JERK Magazine (@jerkmagazine) September 29, 2014
SPOILER ALERT! Oprah is wearing blue! #NewhouseStudio #OprahAtSU

— JERK Magazine (@jerkmagazine) September 29, 2014
Oprah is enjoying a bountiful feast of jimmy johns, chipotle, insomnia cookies, and dining hall sushi. #NewhouseStudio #OprahAtSU — JERK Magazine (@jerkmagazine) September 29, 2014
Oprah hasn't touched her food. #NewhouseStudio #OprahAtSU pic.twitter.com/50H6e3kQgY

— JERK Magazine (@jerkmagazine) September 29, 2014
Her hair is even bigger in person!!! #NewhouseStudio #OprahAtSU — JERK Magazine (@jerkmagazine) September 29, 2014
Chancellor Kent takes a sip of coffee on #NationalCoffeeDay #NewhouseStudios https://t.co/fIqA4X8uRS

— JERK Magazine (@jerkmagazine) September 29, 2014
Where is Oprah? Hint: she's wearing blue #NewhouseStudio #OprahAtSU pic.twitter.com/CtGudGDEB2 — JERK Magazine (@jerkmagazine) September 29, 2014
Oprah just picked up her fork. She has good form. Let the eating commence #NewhouseStudio #OprahAtSU

— JERK Magazine (@jerkmagazine) September 29, 2014
Stop taking photos with Oprah. #LetTheWomanEat #newhousestudios — JERK Magazine (@jerkmagazine) September 29, 2014
Lady Gaga's "Edge of Glory" plays as Oprah takes a bite of her chicken. #NewhouseStudio #OprahatSU

— JERK Magazine (@jerkmagazine) September 29, 2014
Do you hear the crickets while Kent is speaking? #NewhouseStudio #NoClapsGiven — JERK Magazine (@jerkmagazine) September 29, 2014
#OprahMafia RT@erickingdavid: "Newhouse Mafia" is dropped within first two minutes. Oprah looks confused. #NewhouseStudio #OprahAtSU — JERK Magazine (@jerkmagazine) September 29, 2014
Rush Kappa Kappa Newhouse! RT@megzucchini: The #NewhouseStudio video seems like a #RushNewhouse video in my opinion lok

— JERK Magazine (@jerkmagazine) September 29, 2014
Woke up in the mornin' feelin' like Oprah! RT@lauragailcohen: But when is Oprah speaking #tiktokontheoprahclock — JERK Magazine (@jerkmagazine) September 29, 2014
Oprah was just eating her salad with her fingers. Girl, you can't do that when 500 students are watching your every move #NewhouseStudio

— JERK Magazine (@jerkmagazine) September 29, 2014
Can Jerk get a thank you? We're waaaaaaiting!!!! #NewhouseStudio — JERK Magazine (@jerkmagazine) September 29, 2014
Oprah forgot her 3 orange dresses! We'll forgive you. #NewhouseStudio

— JERK Magazine (@jerkmagazine) September 29, 2014
We're within feet of Oprah. She smells nice. #NewhouseStudios https://t.co/7P3X3bAGbF — JERK Magazine (@jerkmagazine) September 29, 2014
The "my best friend Gayle" count is now up at 3. #NewhouseStudio

— JERK Magazine (@jerkmagazine) September 29, 2014
When do we get our BRAND NEW CAR?!? #NewhouseStudio — JERK Magazine (@jerkmagazine) September 29, 2014
That moment when we thought Oprah was gonna speak again and then it was Kent #WeWantMoreOprah #NewhouseStudio

— JERK Magazine (@jerkmagazine) September 29, 2014
It's the man himself, Donald Newhouse! *faints* #NewhouseStudio — JERK Magazine (@jerkmagazine) September 29, 2014
We are all roasting in the sun and being attacked by bees, but we will prevail and stay strong. For Oprah. #NewhouseStudio

— JERK Magazine (@jerkmagazine) September 29, 2014
Oprah is there, somewhere #NewhouseStudio pic.twitter.com/o0KcceSNFn — JERK Magazine (@jerkmagazine) September 29, 2014
The ribbon has been cut. Oprah, you killed it. #NewhouseStudio

— JERK Magazine (@jerkmagazine) September 29, 2014
Oprah has left for the airport and life will never be the same again #NewhouseStudio — JERK Magazine (@jerkmagazine) September 29, 2014