Jerk's Mayfest 2015 Style Guide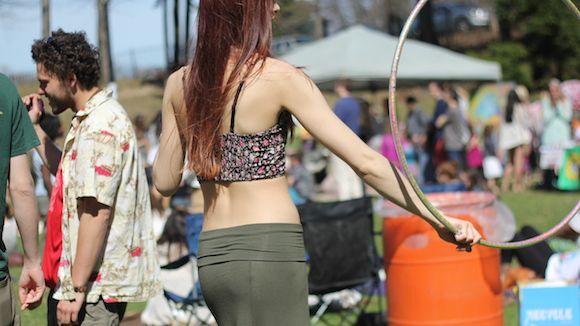 After a long winter and some stressful last few weeks of schoolwork, it's no wonder that students are hyped for Mayfest and Block Party. After all, it's not every day that 50 Cent comes to town. The day of food, drinks and music is no average darty — it's a chance for you to step up and show off your spring style game. Mayfest is the perfect opportunity to try out the latest music festival fashion. But please, whatever you do, no flower crowns.
1. Over It All
If you've ever been nervous to try out this trend, now is the time to go for it. The abundance of pockets is enough reason to wear overall shorts, not to mention the cuteness. Style them with a crop top underneath and cool sneakers.
2. Hats Off
If you'll be out in the sun all day, you are going to want a nice hat to avoid sunburn. This one from Madewell has a chin strap so it won't fall off when you're dancing.
We all know how windy Syracuse can be, so a dress might not be the best option for Mayfest. Instead, try a flowy romper. It has a dress-like look, but you won't accidentally flash the crowd.
4. Underneath
If you want to wear something more casual, like jean shorts and a loose tank, stand out with a cool bralette underneath. Wear a top that has an open back so the strappy detail is on display.
If you're wearing an outfit that has zero to few pockets, you'll need a place to put your phone, SU ID and all your other essentials. Enter the fanny pack. It has the most convenient design ever and can actually look really cool with your outfit if you choose one that matches well.
Other essentials to wear or bring to Mayfest include: cool sunglasses, comfy shoes, lots of sunscreen, chapstick, a ponytail holder or scrunchie, and of course, enough energy to make it to Block Party. May the odds be ever in your favor.
What are you wearing to Mayfest? Tell us in the comments below or tweet us @jerkmagazine.
Pumped for Block Party but didn't get a floor ticket? Have no fear, Jerk is here — we're giving away one free floor ticket. Tweet us @jerkmagazine with your best reason why it should be yours. We'll announce our winner Thursday around noon.
Photo by Adham Elsharkawi