Liven Up Your Leather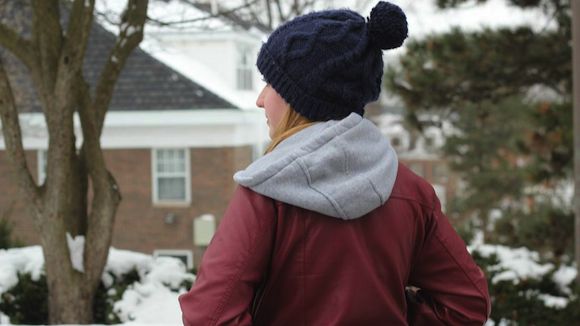 Leather has been in style for a while now, but the latest runway shows proved that it's not going anywhere. Before you channel your inner bad Sandy from Grease, though, you should know that the newest leather looks are about three things: silhouettes, styling, and simplicity.
Leather now comes in every form possible, so why stick to a boring black jacket? Try a classic leather trench coat, a leather midi skirt or, if you're feeling daring, a leather bathrobe-style dress à la Alexander Wang.
If you always wear the same basic leather, try updating it to fit your style.
For an edgy look, think outside the box. For example, instead of tired studs and metal hardware, try leather jackets that incorporate other cool fabrics, like faux fur or suede. These are more unique and can amp up an outfit without looking so forced. Another way to up the cool factor is with the latest leather pants. Trade in your shiny leather leggings for more relaxed styles, like leather sweatpants. Pair them with a cool T-shirt, and you're good to go.
Leather doesn't have to look tough — there are plenty of ways to tie the fabric into classy, polished, and sophisticated outfits appropriate for any situation. For starters, ditch the black. Brown leather provides a down-to-earth feel, and pastel leather shows off your sweet side. Leather can look mature and sleek in silhouettes like A-line skirts and sleeveless shell tops.
Despite all the new leather goods available, you don't necessarily have to buy anything new. By restyling whatever leather you already own, you can be trendy and thrifty. Pay attention to how you usually wear your key pieces. If you always pair your black leather jacket with dark jeans and a glitzy top for going out, imagine it with a long flowing skirt and sandals for a fancy brunch date. Already have a nice leather pencil skirt? You could add a blazer for a professional occasion, or heels and a crop top for a night out.
While the new ways to work your wardrobe are all about innovation and mixing-and-matching, it's important to remember simplicity. If you don't want to look like you're about to hop on a Harley, stick to one leather piece per outfit. Balance textures and lengths to look the most put-together.
Now that your outfit is perfected, you can take one lesson from ol' Sandy: to wear leather well, pull out every drop of confidence you've got. Tell me about it, stud.
Photo by Adham Elsharkawi