One Trippy Evening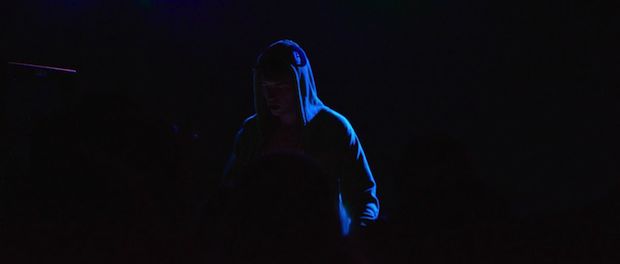 "I'll go turtle on that bootayyy." That was the unofficial slogan that summed Tuesday night when Trippy Turtle, the enigmatic EDM DJ, headlined a show in the Schine Underground. GoldLink, an underground rapper with a futuristic sound, opened the show.
To be honest, when the acts were announced I had no idea who Trippy Turtle or GoldLink were, and merely the names Trippy Turtle and GoldLink kind of turned me off. But, I decided to look up some of their music on SoundCloud and YouTube before completely judging and alas, my interest was piqued. I think this factor of unfamiliarity drew the crowd to the show – of course, there were a few hardcore fans in the crowd, but the majority just wanted to experience a new and fresh sound in an intimate concert setting. And that's exactly what they got — a fun, intimate, and of course "trippy" experience.
GoldLink's music can only be described as "futuristic bounce." Doors opened at 7, music started at 7:30, and by then, the crowd started to pour in. I expected the majority of the crowd to roll in around the 8:30 mark, but they clearly wanted to give GoldLink a fair chance to win them over, and he didn't disappoint. He hit the stage around 8, where the DJ started off with a mix of mellow beats, that led up to trap-like drums over remixes of popular tracks to build up the audience hype for GoldLink's entrance. Spitting quick, lyrical rhymes over mellow, futuristic, old-school beats, GoldLink held nothing back. Halfway through his set he won the crowd over, letting his DJ play a medley of 90s classics to get everyone in the crowd dancing. On his last song, he roared, "get your hands up," which got in the crowd hyped before he graciously bowed out.
Now, on to the main attraction — Trippy Turtle. A black hooded figure emerged on the stage and ultimately commanded the room's attention by playing his signature jersey club style. And then, finally. he did his signature move, causing an unanimous roar among the crowd – Trippy Turtle took off the black hoodie and donned his signature green turtle hoodie. Soon after, everyone was dancing and the crowd was officially under his ownership. Trippy Turtle loves remixing popular songs and incorporating slow R&B jams into them. For 45 straight minutes, I didn't stop dancing – in my eyes, Trippy Turtle did his job and exceeded expectations.
This one of the most fun concerts I've been to, not only because of the intimate setting, but also the factor of unfamiliarity with the artists and their ability to control and win over a crowd. GoldLink and Trippy Turtle both exceeded my expectations and have officially made me a fan. I can't wait to see these guys blow up and bring their unique sounds to the mainstream.
Photos by Max Redinger