Pledge Your Allegiance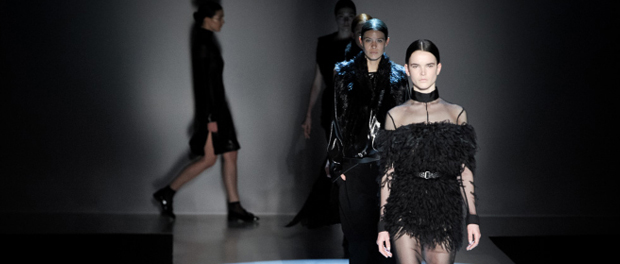 This is fashion nation, pledge your allegiance, get ya'll black tees on, ALL BLACK (AND WHITE) EVERYTHING.
Yes, that was an adaptation of Jay Z's words from the hit song, "Run This Town," but it's also the new mantra everyone will be repeating in 2015.
The Spring 2015 New York Fashion Week Shows just concluded and it's clear that the most popular trend was all black and all white outfits. Countless designers like Proenza Schouler, Erin Fetherston, Ralph Lauren, Elizabeth and James, Michael Kors, Zac Posen, Elie Tahari, Tory Burch, Milly, Diane Von Furstenberg, Carolina Herrera, and Christian Siriano showed head-to-toe white looks, all-black-everything looks, or some combination of the two.
In fact, it was difficult to tell if this was a spring or fall fashion week from the overwhelming use of neutrals. Coming from a girl who considers white her favorite clothing color, I still thought the shows were a bit of a snooze fest. Where was the color, texture, and bold design? Designers were definitely playing it safe.
Thankfully, designer Jeremy Scott ignored these trends. and made viewers step into an acid trip. His collection featured intensely bright colors, shiny green metallics, fuzzy green and purple trim, and WAY out there prints including tie-dye swirls and Jack-o-Lantern faces.
His collection is perfect for the millennial girl who spends her weekends getting baked at music festivals and loves ugly clothing. And who better than Miley Cyrus to represent this aesthetic? Cyrus, with her hanging tongue in tow, accompanied Scott for a walk down the runway to close the show, and to debut her Dirty Hippie jewelry.
Another consistent fashion week theme was tech. Ralph Lauren made quite the fuss with his first-ever 4-D show, which included 3-D imagery, digital sound effects, and scents from Ralph Lauren's signature fragrances (I guess the scent makes its 4-D, not 3-D?). Models showcased the new collection through holographic images projected onto water. Okay Ralph, we get it — you're kind of a big deal.
And let's not forget about the Elie Tahari dress made of cell phones. Throughout the fashion presentation, the model wearing this dress was circled by audience members taking photo's with their cell phones of this piece...how ironic.
Moving on to what went brilliantly well — Kendall Jenner killed it this fashion week. She walked in over four shows and is officially a fashion week regular. Rodarte's multi-eyebrow piercings made quite the statement. Will eyebrow rings be the next "it" piercing and replace nose piercings? We'll have to wait and see. Finally, my favorite show was Marchesa. With gypsy inspired floral, sophisticated bohemian and feminine looks, and the perfect use of color and texture, Georgina Chapman and Keren Craig, it is to you, to whom I pledge my fashion allegiance.