The Definitive Ranking of Current Talk Show Games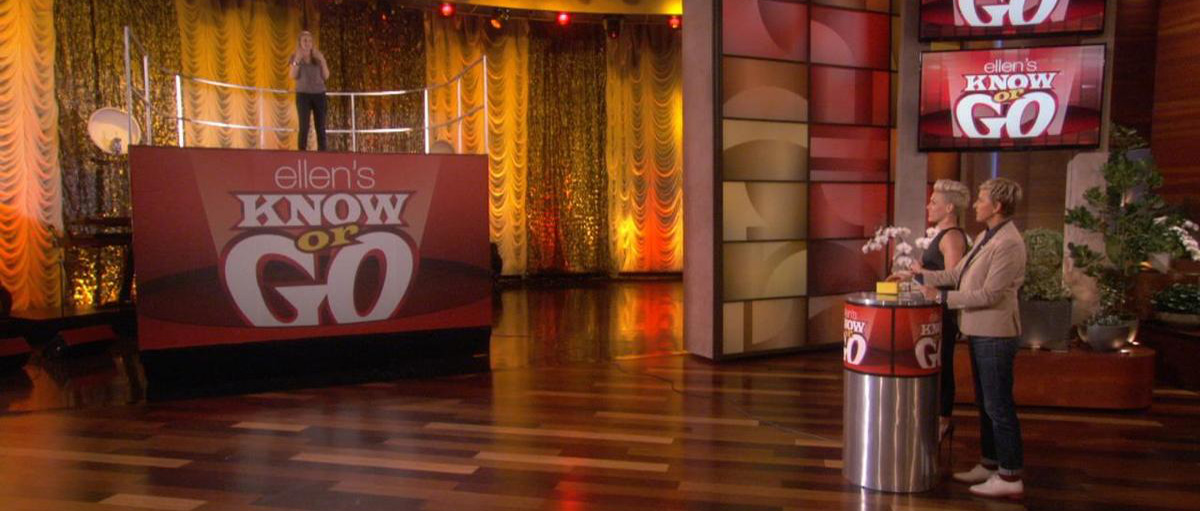 As a broadcast bittie and aspiring talk show host myself, I love to watch talk show hosts attempt to fill an hour slot with various completely ridiculous games. Creative show hosts Ellen Degeneres, Jimmy Fallon, and Seth Meyers have proved to be the funniest three for the crazy games they have guests play on their show each day.
Below are my favorite current games the hosts have on their shows, and their ranking in ascending order.
7. Egg Russian Roulette, The Tonight Show Starring Jimmy Fallon Egg Russian Roulette is played with two people and a dozen eggs. Eight of those suckers are hard boiled and two are still raw. Each player smashes one egg at a time on their head, and whoever smashes two raw eggs first, loses. This game, though totally nerve-wracking and worth my time to YouTube, (when it's played with Bradley Cooper of course), is ranked as worst-best talk show game only because, hello, egg yolk. A game where the loser is not only a loser, but a loser covered in what could give you salmonella, gross!
6. Know or Go, Ellen Know or Go is a game where Ellen can, with just the push of a button, take the floor from right underneath you, should you not get a trivia question correct. Players of this game stand on a platform with an (assumed) soft landing below, and are asked different trivia questions. If they don't know the answer, Ellen whisks the platform away and the player drops into the platform-belly like a limp fish. It's funny to watch, but I'm thankful there's no iPhone app for this one.
5. Five Second Summaries, The Tonight Show Starring Jimmy Fallon As it's title would allude to, this game is played between two people who attempt to get each other to guess a certain person/place/thing by giving a short, five second summary. It's hilarious to watch because we viewers get to see the "thing" poor Jimmy is supposed to guess, and the totally lame summaries given by his guests are only worthy of air-time because, let's face it, even when Andy Samberg is saying a whole lot of nothing, he's still Andy Samberg. It's a great game when players are funny, but can be absolutely yawn-worthy when played with more bAsIc guests.
4. Word Sneak, The Tonight Show Starring Jimmy Fallon This guy again?! What can I say, Jimmy kills it at the talk-show-game game, and this isn't even his last appearance on my list! Anyway, this game, wherein show guests have to incorporate totally bizarre words, like "kumquat" or "friend zone" into casual conversation, is hilarious. It's ranked higher than the aforementioned games because as you watch it you can't help but think about how you would find a way to use that word in a coherent sentence. And I'm all about mental stimulation, even when I'm watching four-minute YouTube vids before bed.
3. Fake or Florida, Late Night With Seth Meyers Seth Meyers, with this game, literally has guests on his show guess whether or not a certain piece of absolutely ridiculous news has come in from Florida or not. The fact that this even exists is so funny to me, that I just have to love this game as much as I do. I too think that a lot of the most ratchet news I hear has occurred in the state of Florida, so when Seth reads a news bit like, "a mother gave birth to her fourth child in a Walmart parking lot while her other three children watched," and it turns out to be an actual news story from The Sunshine State, I literally can't even.
2. Box of Lies, The Tonight Show Starring Jimmy Fallon Confession: Emma Stone may be the sole reason I love this game so much, (watch her play it, above, and you'll see why), but even when played with other guests, this game is so damn entertaining. Basically, Jimmy Fallon has a wall of eight boxes set up, all containing different, totally random items, and he and his guest pick a box, look at its contents, and then attempt to trick the other player into guessing what it is. It's a trick because they actually don't want thei fellow player to get it correctly, they want their fellow player to believe their lie! It's pretty hard to fucking explain, okay, but watch it for yourselves because the crazy descriptions these guests come up with is guaranteed to have you laughing in your bed alone.
1. Heads Up, Ellen Obviously this is the best game of 'em all, I mean, just ask your App Store. It's like charades but more technologically advanced, and though it has basically the identical premise of charades, we all seem to think this game's rules and objectives are GENIUS. Okay, no I'm done hating because I absolutely love heads up. Trying to get your partner to guess what accent you're using, action you're acting out, song you're humming, or animal you're imitating is way more extreme when there's a buzzer beeping loudly legitimately on your head. And there's necessary hand coordination situations that add an additional element of overall intensity to this game. It's fun to watch her play with guests on her show, because she's so damn hilarious, but it's even more fun to play with your alcoholic beverage of choice with friends.
Now that you have some great content to laugh yourself to sleep with, go make your own decisions about the hilarity of these staged segments.