5 Things to Know about Cash Cash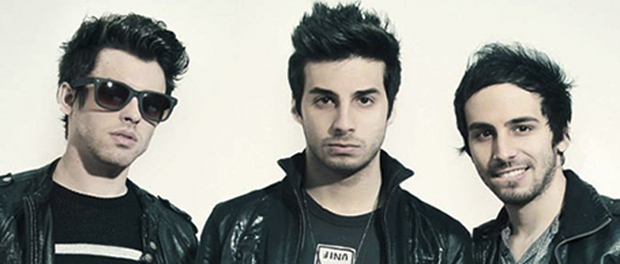 Before Cash Cash takes on Syracuse University in their upcoming performance in Schine Underground on Wednesday, November 12, there's a few things you need to know.
1. They are nowhere near new artists. Cash Cash is comprised of Jean Paul Makhlouf, Alex Makhlouf, and Samuel Frisch. As a trio, they produce, record, mix, and master all of their own music. But dating all the way back to 2002, Cash Cash formerly played under the name The Consequence.
2. Take Me Home… to your basement? Cash Cash's biggest hit to date is obviously "Take Me Home" featuring Bebe Rexha, which has gone certified platinum and gold in numerous countries. According to the band, the track got its start in the Makhloufs' parent's basement!
3. They think the EDM genre is survival of the fittest. In a recent interview, the trio shared, "I think anyone that claims EDM is changing for the worse, most likely feels threatened by the competition, and is scared they can't keep up with the new kids in town."
4. They helped make one of Krewella's biggest singles. After their remix for "Alive" gained a lot of traction and popularity, Krewella reached out to Cash Cash to collaborate on a song together, which churned out the song "Live for the Night!" Cash Cash co-wrote and produced the track, and described working with Krewella as a "great process."
5. "Surrender" is a song you're going to hear everywhere really soon. Their newest single, "Surrender," featuring Julia Michaels, already has millions of streams on Spotify and close to a million views on YouTube since its release a month ago. This goes to show that Cash Cash is going to be around for a long while and they're only getting bigger.