Hipster Hijabis: Newfound Inspiration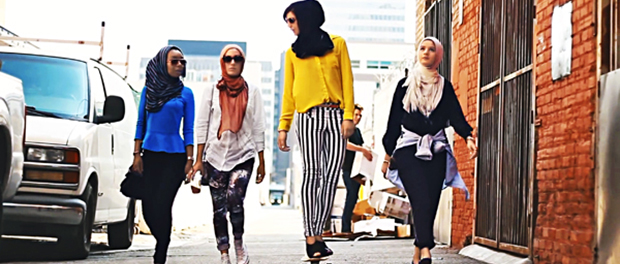 Several months ago, I stumbled upon an Instagram account that introduced me to an entirely new realm of fashion blogging. Prior to finding @hipsterhijabis, I really had no idea there was a different fashion scene for Muslim women who wear hijabs. But these ladies have some serious style game that competes with the most traditionally trendsetting women around the world.
From some online research, I've learned that Muslim women often cover their heads with the hijab., and sometimes style outfits so that just their feet and hands are showing. Some critics may find this fashion sensibility to be oppressive, but as a girl who considers herself to be fairly conservative myself (no mini skirts, daisy dukes, or skimpy bikini's for me), I find it refreshing to have new fashion role models. My favorite blogger, Ascia of The Hybrids is always on trend, incorporates tons of great colors, and textures into her outfits, and she knows how to dress for every event. This woman proves you don't have to be frumpy or boring to dress conservatively. Ascia, you are ALWAYS on point.
Dina Tokio is another hijabi fashion blogger that knows a thing or two (or pretty much everything) about some seriously fierce makeup. I believe that wearing the hijab draws more attention to a woman's face, making it even more important that a woman's makeup is on point. Tokio has great tutorials for contouring, smokey eye makeup, and how to get such flawless eyebrows that even Cara Delevigne would envy.
As another means of expression, these ladies turn to chic designer shoes, statement necklaces, and the best handbags ever (seriously) to complement their outfits. And we can't forget, the scarves they are famous for beautifully draping. Side note: Tokio also has an online store, Lazy Doll, which has some unique scarf options that can be styled anyway you want.
The greatest lesson I've learned from these women lies in the reason why they wear the scarves. Marwa Atik, a hijab designer, explained her feelings about the hijab to Marie Claire, saying, "One of the biggest lessons the hijab taught me is that you have to rely on your words, your personality, and the way you speak with people to make them change their mind about how they perceive you."
For women, the tradition of the hijab takes the emphasis off of vanity and places it on more important attributes. Whether we choose to wear the hijab or not, we can all appreciate that notion.
At the end of the day, we all know that shoes and designer clothing is not what makes us fashionable. It's our character and means of self-expression that truly makes us stylish, ladies.