A (Bar) Hop Through History: Syracuse Edition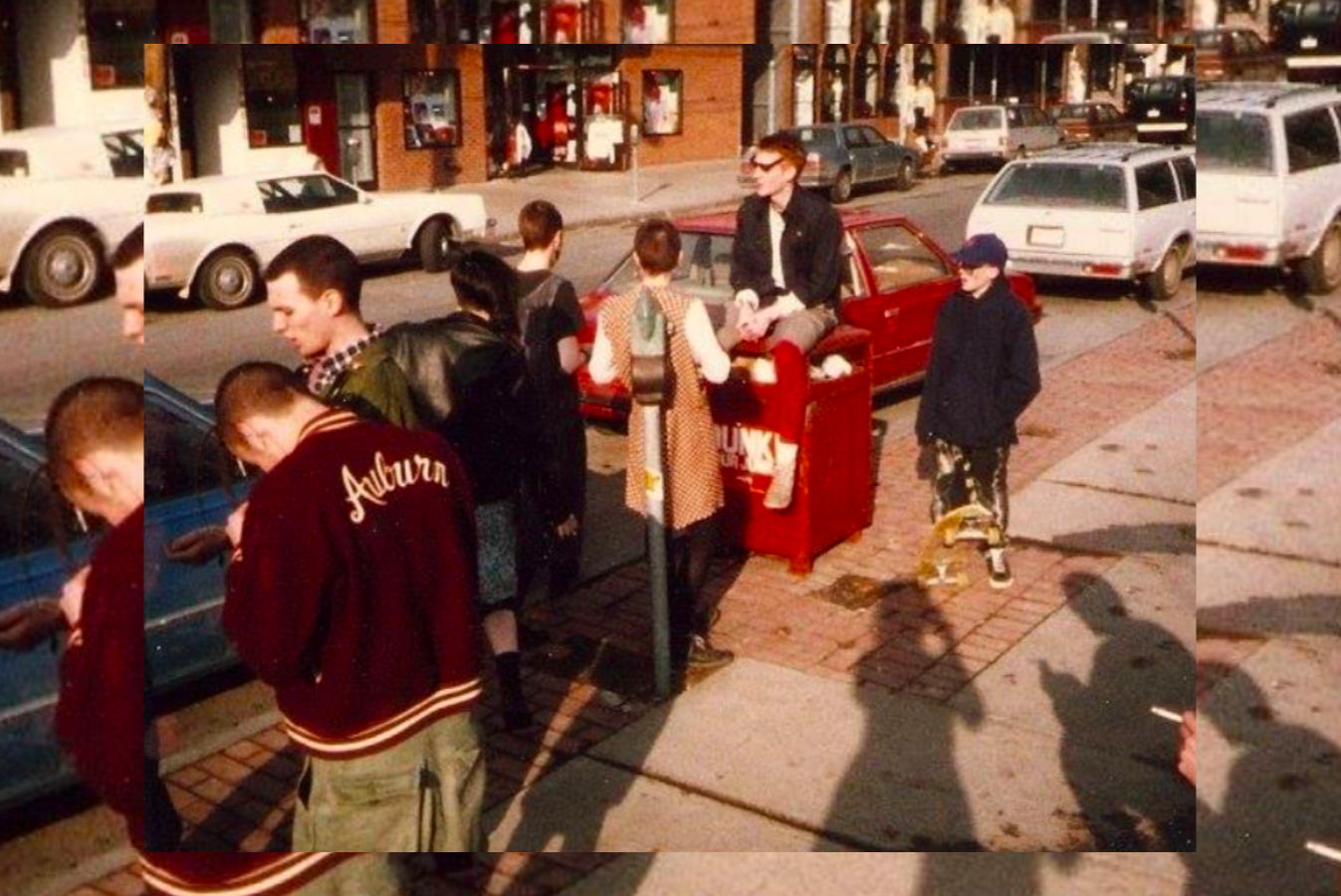 This story originally appears in the April 2018 issue of Jerk Magazine and was written by Alex Erdekian. Faegan's, Buggsy's, Hungry Charley's, Maggie's, Lucy's, DJ's, Orange Crate, the Generic, Darwin's, 44's Tavern: Marshall Street has seen its assortment of bars that came, went, and stayed. Many have changed names and hands through the decades. Students have left their marks on the walls with initials in neon paint, bouncers have confiscated fake-IDs, and drunk frat boys have slurped rain water out of barrels outside Chuck's.
Now, a year after the demolition of Chuck's and Orange Crate Brewery, six months after Orange Crate reopened in the former location of Bruegger's Bagels, and a summer away from the opening of luxury student apartment building The Marshall, the Marshall Street bar scene as we know it is once again on the brink of change. What follows is the story of the bars on Marshall Street—their past, present, and future.
PAST
Before Marshall Street was Marshall Street, it was like any ordinary residential street with houses and yards. All that's left of that now is the blue house structure above Shirt World. In the 1920s, the arrival of Jerry Dellas sparked a change. A Greek immigrant, Dellas began selling popcorn and peanuts, and soon bought a house on the corner of Marshall Street and South Crouse Ave. That house became what is now Varsity pizza, opened in 1926. Years later, Dellas's grandchild and namesake was born next door to the Varsity, in the former Crouse Hospital location.
'70s
Fifty-two years after he opened the Varsity, Dellas's grandchildren, the younger Jerry Dellas and his cousin John Dellas applied for a liquor license and opened Faegan's Café & Pub. Faegan's stands as the longest surviving bar in the Crouse-Marshall area.
The other bars at the time were The Orange, Hungry Charley's, and Sutter's Mill. Soon after opening Faegan's, the Dellas cousins bought The Orange and turned it into a bar called Buggsy's. Jerry Dellas remembers the opening night at Buggsy's, how the line to get in stretched around the corner of the block.
'80s and '90s
The early to mid-80s became a turning point for bars on Marshall Street and beyond. In New York State in 1982, the legal drinking age changed from 18 to 19. And then in 1985 it did again, this time to 21.
This change was a major test of the bars' survival. Their customer base of undergrads was suddenly cut in half, eliminating the 18, 19, and 20-year-olds. An added challenge was dealing with that surplus of underage kids and the trouble they brought along with them, like police raids.
Yet one of Dellas's best memories was after Syracuse won the Final Four in 1987.
"I have a picture in my office that shows it must've been 30,000 kids in Marshall Street and Crouse. It was incredible. You wouldn't believe it," Dellas says. "You could just see how history would change in the crouse marshall area."
Ben Tupper, landlord and owner of Beer Belly Deli on Westcott Street, has lived in the university neighborhood most of his life. His father has been an SU professor for more than 50 years, and he remembers hanging out at "The Beach" on Marshall during his teen years in the mid-80s. The beach was a green, grassy hill where kids would eat lunch, hang out, and smoke when the weather was nice. It was across the street from the storefronts, where there is now a cement wall and sidewalks.
"We would sit there and skateboard, and all the sorority girls would look at us like we were troublemakers, but we were just high school kids doing high school things," Tupper says.
Tupper describes his adolescent self as Straight Edge, a sect of the punk rock crowd that abstained from drinking and drugs. But that didn't mean he never went to the bars.
As a teenager, he frequented The Generic, which he described as having no sign, newspapers covering the windows, and looking like an abandoned storefront.
"All the goth/punk people basically colonized it as our bar," Tupper says.
As businesses trickled in, replacing the homes on Marshall Street, the area started to go downhill. Dellas describes it as "telephone poles everywhere, old sidewalks, just a mess." Dellas began going door-to-door, selling people on his idea of upgrading Marshall Street. It took awhile to get people on board.
"Through the years, way back when, the Crouse-Marshall Street-area used to be the place to hang out," Dellas says. Any time anything happens with the University, people's instinct is to come to the Crouse-Marshall area. Now it's less so with Armory. But it used to be just Crouse-Marshall."
In the late '90s, Dellas got the university on board to help him secure a $3.8 million Housing Urban Development grant. It was with this grant that Dellas had the street bricked, sidewalks repaired, trees planted, utility poles removed, and electrical service updated. The renovations were complete in 2001.
2000s
One of the most memorable, yet frightening nights on Marshall Street was when Syracuse Men's Basketball won the national championship for the first time in 2003. Students and Syracuse residents alike emptied the bars and flooded the streets, climbing the new trees Dellas had planted, setting fires, getting naked, and chanting, "Let's Go Orange." Dozens were arrested.
"It was really upsetting," Dellas says, reflecting on seeing the street he upgraded mobbed by the crowd. "I kept telling the police to arrest those kids because they were destroying what we worked so hard to get."
"They were destroying what we worked so hard to get." - Jerry Dellas, owner of Faegan's Café & Pub
Current manager of Orange Crate, Jason Muratore, worked for the same bar when it was called Lucy's from 2004-2006. Compared to now, he describes the university bar scene as being busier a decade ago—crowds of students would arrive earlier, there'd be lines out the doors by 10 p.m. as opposed to 11:30 which he sees today.
During this rowdy decade, Konrad's—previously 44's—and Maggie's were both shut down during raids. The New York State Liquor Association suspended their liquor licenses.
PRESENT
The demolition of 727 South Crouse Ave. (aka Chuck's and surrounding alleyway favorites) left a void on campus at the start of the fall 2017 semester.
Tom Pirro, a bartender at Harry's and a junior communication and rhetorical studies major at SU describes the scene at Harry's as mostly consisting of "quote-on-quote athletes" and says the other employees he works with on a nightly basis are SU students.
The bar attracted large crowds in as students returned from summer break in fall 2017 in the absence of the demolished Chuck's and Orange Crate (the bar otherwise known as its former name Lucy's among students), which Pirro recalls was a drastic change.
But after the new Orange Crate opened in the previous Bruegger's Bagels space later in the fall, it increased competition dramatically.
The new Orange Crate is an appealing nightlife option to many—it's full of flat screen TVs for the more casual bar goer, yet the space takes on dance club vibes for more energetic partiers. Muratore says they're busy five nights a week.
"The game days have been unbelievable. The Duke game I think was the biggest. Just insane. We were packed inside; we were packed outside. We had to stop letting people in the front because there wasn't enough room inside for everybody," says Muratore.
"The game days have been unbelievable." - Jason Muratore, current manager of Orange Crate
Muratore first worked for the bar back when it was officially called Lucy's from 2004-2006. He says he's had every role there from bouncer to barback. After staying in contact with owner R.C. Faigle over the years, he was offered the job of manager over the summer.
The new Orange Crate is adapting by serving food all day, a strategy Faegan's implemented years ago. It's difficult for a Marshall Street bar to last without other means than serving drinks at a time when parking on the Hill is so scarce and students arrive at the bars later and later. Some surprising bright new moments that Muratore has experienced at the bar lately with this update are new fathers that have walked over from Crouse Hospital to have a drink in celebration of their new child.
Kenneth Tiss, former bouncer at Chuck's since 2011 and current bouncer at Orange Crate points out that some things never change in a college bar scene. Drunk kids are drunk kids, and he has seen it in all its nastiness—people peeing on the floor of Chuck's, trying to have sex in the bathrooms, and girls hitting on bouncers in unsuccessful attempts to get their underage friends in. What's next for Chuck's, which last year during its shutdown was said to reopen, hangs in the balance while owner Stephen Theobald continues to search for a new location on the Hill.
FUTURE
Something big is sprouting from the Syracuse University skyline this spring, and very quickly.
The Marshall: the eight-story, 287-unit luxury apartment that nearly fills the block on Marshall Street from Crouse Ave. to University Ave. It's opening in fall 2018, and its four-person floor plans are already sold out. Rent at The Marshall costs up to $1,500 for an annual lease. The Marshall is among several luxury apartments targeting students that's being built, including Theory on East Genesee Street and another student housing project across from the Genesee  Grande Hotel.
Coming to The Marshall is the Pasadena, CA-based fast-casual chain Blaze Pizza. The restaurant concept is an assembly-line style of ordering in which customers move down the line selecting toppings for their pie, up until they reach the end when their meal is cooked for 180 seconds and is ready to go. Think Chipotle but for pizza.
Blaze may be one of many-to-come national chains that starts infiltrating the area, catering to the transplant population of students arriving with The Marshall's opening. Dellas believes more national chains will likely arrive in succession. It remains to be seen if Blaze will carry beer and wine, which could affect the business of the bars.
Isabella Caird, a junior public health major at SU, will live in The Marshall next year. The benefits are clear: proximity to class and the bars—as Kenneth would say, "depending where you live in The Marshall you could open the window and spit and hit DJ's or Orange Crate. Harry's might be a little bit of a stretch"—, a high-end gym, and restaurants opening in the property. Caird thinks the opening of The Marshall could increase the nightlife at the bars.
"I think it'll be really dangerous the fact that I'll live right next to the bar. In the winter especially when normally I'd stay in," Caird says. "I think it'll make everyone go out more because they'll pregame at The Marshall."
Muratore and Dellas are thinking on the same lines, also hopeful The Marshall will bring increased foot traffic into their institutions. Dellas also thinks the new veterans complex being built across from the Varsity will bring more vibrance and life to the Crouse-Marshall area.
Not everyone is happy about the changes though.
"The changes that are happening to me are very corporate," Tupper says. "Out of state, generic research—a multimillionaire going, 'This is what students want.'"
"The changes that are happening to me are very corporate." - Ben Tupper, landlord and owner of Beer Belly Deli
Despite talk for a few years of construction projects going up in place of the current locations of the Varsity and Faegan's, Dellas says nothing of the sort is a done deal. As for the future business of the Varsity and Faegan's, Dellas and his cousin plan to keep it going as long as they can and keep the businesses and properties in the families if they can.
"There are other Dellases. My cousin has children, I have children. They're doing their own thing right now. Maybe one of them will decide to run it. If not, we're going to run it as long as we can and keep it in the family if we can. If not somebody else will run it," Dellas says.
While the original parts of Marshall Street are being overshadowed by construction projects like The Marshall, literally, Dellas is positive about the area's continuation. He also finds it fitting that the developers who are now controlling the shifting streetscape are SU alumni themselves.
"When you drive down Crouse, you see that giant building. It towers over you," says Dellas. "It looks like Marshall Street is going to lose some of its charm and quaintness, but at the same time it is surviving among those tall buildings."