How To Drink Like the Irish…Without the Artificial Ingredients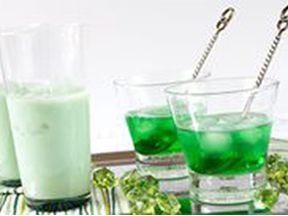 'Tis the season for green beer and McDonald's Shamrock Shakes—you know what that means! That's right! Millions of people will ingest liters of green food dye, mass quantities of high fructose corn syrup, and other frightening artificial ingredients (chemicals), all for the sake of some St. Patty's Day beverages.
I get it—St. Patrick's Day is a well-known celebratory holiday often involving the ingestion of high volumes of alcohol. But before you gulp a pint of green beer or spike your Shamrock Shake, there are some things you should know.
First of all, for the caloric price of one of those festive shakes—820 calories and 155 grams of sugar—you could literally eat 3.6 orders of small fries from McDonald's. Next, the "ice cream base" of a Shamrock Shake contains carrageenan, a potential human carcinogen. Delicious. The "artificial vanilla flavor" is sometimes made from lignin, a byproduct of wood pulp extraction. Scrumptious. Why use real vanilla when you can have a little bit of lignin lining the inside of your stomach, am I right?
Sure, green beer is a simple mixture of a light beer and green food coloring, which is harmless in regular amounts. However, depending on how many pitchers you're throwing back, you might be surprised at the color of your tongue, skin tone, and—excuse me—your stool before the holiday is done.
Simply put, there are better things to swig while you celebrate this green-themed day.
In the morning: Irish Coffee
What you'll need:
- Cup of strong, dark coffee
- 1 ounce Irish whiskey
- 2 tsp. brown sugar
- Whipped cream
What you do:
1. Mix sugar into coffee until completely dissolved.
2. Stir in Irish whiskey.
3. Top with whipped cream.
In the afternoon: Irish Eyes
What you'll need:
- 1 ounce Irish whiskey
- ¼ ounce green crème de menthe
- 2 ounces cream
What you do:
1. Stir all ingredients together with ice.
2. Garnish with maraschino cherry, if feeling fancy.
In the evening: Shamrocker
What you'll need:
- 1 ounce tequila
- 1 ounce melon liqueur
- Splash of triple sec
- Splash of orange juice
What you do:
1. Stir all ingredients together with ice.
2. Divide into shot glasses and throw them back, or drink as one mixed drink.