Iggy Azalea's "The New Classic" - Album Review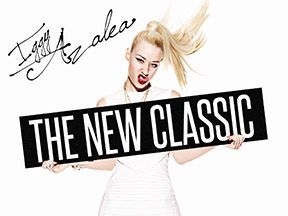 Familiar to most for her club-cranking, frat party go-to track "Fancy," Australian- bred blonde Iggy Azalea's highly anticipated album "The New Classic" dropped earlier this week. The name is apt enough—it's "new," though it steers far from "classic." I give Azalea a solid thumbs-up as she ventures into the female rap sphere—one that's more vacant now then ever before, giving Azalea motivation to top her competition. Although there was much hype surrounding this major label debut, it's on the verge of being deemed a flop.
Pulling a Taylor Swift, Azalea walks a fine line between two genres, caught between pop and hip-hop. Her first tune "Walk the Line" attests to her motivation to rise as a female rap star: "All this talking about me, just talk about me. I'm here now, they can't walk around me." Yet in using a bold ballad for the chorus, Iggy sounds like she's catching the so-called "hit fever" from fellow female rapper Nicki Minaj, or the misconception that a song's a hit if it falls into the pop-esque category while simultaneously double-dipping in the rap scene.
Without a doubt, this white 23-year-old can rap. She creates curiosity amongst listeners with her authentic accent and raw rhymes—not to mention her unorthodox appearance. Though recognized for her successful modeling background, Azalea clearly doesn't want to be associated with her past gig, demanding all the focus to be solely on her music.
Iggy's tough tune "Goddess" holds true to her sharp lyrics and prominent pronunciation, giving us a taste of some real girl rap. Another track, "Impossible Is Nothing," features a robust rap and arousing backbeat with her influential lyrics: "Keep on climbing, keep on reaching. Even when this world can't see it. No impossible is nothing." Yet on tracks like "100" Azalea falls into the common white girl cliché, trying to imitate the stylings of Amy of pop duo Karmin. While her mentor T.I. is featured on her track "Change Your Life," this particular song is, oddly enough, far from what Iggy needs to hop on the all-star female rapper bandwagon.
True female hip-hop stars are an endangered species here in America. Just look at Nicki Minaj—we saw her start as a rapper descendant from the Young Money dynasty. However, once she went through the record machine, she quickly became overproduced, overplayed, and, hate to say it, but overrated. Recently, other females such as Kreayshawn and Azalea Banks are vying to make a name for themselves in the rap scene. Well, it looks like Iggy is winning that contest.
While this album seems quite inconsistent as far as direction, Azalea has tried- and-tested EDM-tracked songs "New Bitch," "Work," and "Bounce" to fall back on. Although these seem to be far from Azalea's intentions, she has a lot of time to do some justice like one of her early influences: Missy Elliot, the real classic. Oh yeah, I went there.