Jerk's Guide to Fearless Fall Fashion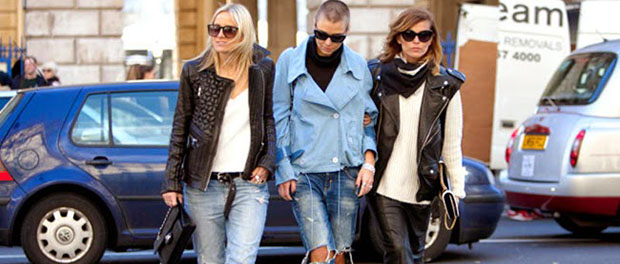 Are your #ootd posts getting repetitive? I know I'm not alone when I say, "I literally have nothing to wear" or "I need new clothes," because that is every college student's inner dialogue when deciding what to wear in the morning. Now that it's getting colder in Syracuse, crop tops and high-waisted shorts ain't gonna do the trick anymore. It's time for a #FashionIntervention, which means you need to start taking some fashion risks and invest in these fearless fall fashion trends.
1. Turtlenecks
This is a tricky one, because you can very easily end up looking like your grandma, even though we all love 'em (hey bubbe!). Turtlenecks are a risky fall trend to master because it can completely mess up the appearance of your proportions. Look for turtleneck sweaters with a drop waist silhouette that covers your hips, creating an oversized illusion to capture the effortless ease of autumn. The asymmetric slit on this wool sweater gives the look an edgy kick while keeping you stylishly warm!
2. Zip sweaters
As seen on the runway, many designers and fast fashion powerhouses incorporate this detailing on a lot of their sweaters. Zippers down the sides revamp the whole outfit by making it sleek and polished. This zipper element is definitely a trend that is here to stay and will certainly persist through many seasons to come.
3. Patchwork jeans
Boyfriend jeans were in for a while, but now it's all about the patches. These patched jeans may look crafty and homeless-looking, but they are actually a trendy fashion statement piece to have in your wardrobe. The patching and frays add a tomboy vibe to the look, allowing you to neutralize a feminine outfit to balance it out. I mean, if dungarees are a thing now, why can't these jeans also have their moment to shine?
4. Knee-length skirts
For those of you who cannot live without skirts even in this cold-ass weather, the knee-length skirt will be your best friend this fall season. The placement of the hem of these skirts may be a little awkward and not everyone can pull them off, but when done right, they ooze sophistication. You can easily dress this skirt up with a chiffon shirt tucked in, or a basic crop top layered with a leather moto jacket.
Jerk dares you to showcase your favorite fashion risks for fall by tagging @jerkmagazine and using the hashtag #jerkmagazine on Twitter and Insta. Which fearless fall trend are you going to try?