Jimmy Fallon: Musical Genius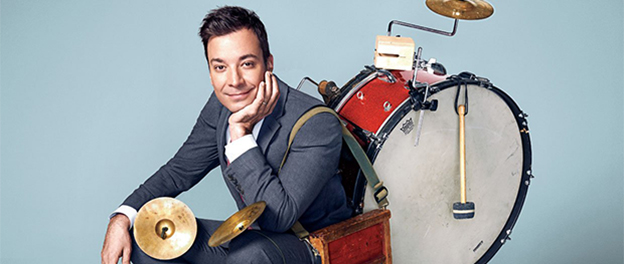 Jimmy Fallon, host of The Tonight Show, is more than just your average comedian. He's a musical genius and his impressions of musical greats are out of this world. Check out some of his most noteworthy performances.
Neil Young sings Iggy Azalea's "Fancy" with Crosby, Stills, and Nash
When I first watched this performance, it took me a second to realize that it wasn't actually Neil Young on stage. His neo-cowboy outfit is classic Neil Young, right down to the scraggly hair. Jimmy also has Neil Young's unique vocal sound and playing style down to a "T". Close your eyes and I promise you won't know the difference. I would have freaked over an actual Crosby, Stills, Nash, and Young reunion, but this was probably the next best thing.
Jim Morrison sings "Reading Rainbow"
Jim Morrison, is that you? Fallon, fully clad in a tight leather getup and a dark curly quaff, seems to be a reincarnation of The Doors front man. Fallon takes the sweet, sappy theme song of Reading Rainbow and transforms it into a classic rock anthem. Fallon stumbles around stage in a drunken stupor and sings in a slurred, monotone voice, just as Morrison would. "Butterfly in the sky, I can go twice as high…. READING RAINBOW!" Sounds like it could pass as a real Doors song to me.
Jimmy Fallon and Paul Simon perform "Cecelia"
On the Late Night with Jimmy Fallon show a few years back, Fallon established his he was musically savvy when he performed the Simon & Garfunkel hit "Cecelia" with Paul Simon himself. Fallon plays guitar with Simon as the cast of Broadway musical Stomp plays percussion. I'd say you if can hold your own alongside Paul Simon, you've got to be doing something right.
Jimmy Fallon Feat. will.i.am. – "Ew!"
If you haven't already seen the music video for this, please watch pronto. His comedic genius shines a bit more in this one, but still a sparkling performance by Fallon and will.i.am. Who knew the ex-Black Eyed Pea had such a sense of humor and could pull off headgear? Fallon looks exactly like I did in middle school, and (unfortunately) sounds like I did too. Ew.