John Oliver: This Just In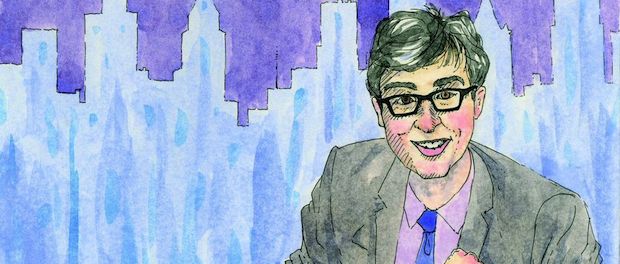 By Hugh T. Ferguson + Illustration by Ryan Brondolo
Leave it to John Oliver to address the madness of student loan debt in this country. Donning a navy suit, a gingham button-down, and his signature grin, funny man Oliver took to Last WeekTonight to give his audience an across-the-pond take on this spiraling problem. "Essentially student debt is like HPV," Oliver said. "If you go to college you're almost certainly going to get it, and if you do, it will follow you for the rest of your life." This facetiously funny approach to serious issues defines Oliver's reign as the latest late–night comedy king.
Prior to his stint on Last Week Tonight, Oliver's sarcastic perspective became a regular stipend of Jon Stewart's fake political news show, The Daily Show. His inherent wit and caricature of the American media attested to his talent, but it wasn't until Stewart took the summer of 2013 off to film Rosewater that audiences could really get a taste of Oliver's style. His hosting gig was such a success that by the end of the summer, fans were torn. With Stewart slated to return, Oliver would no longer have a principal voice in the weekly news cycle. HBO eased the conflicting sentiment toward Stewart's return when the network announced that Oliver would be creating his own distinct, satirical, political show.
Oliver started his career as a stand-up comic in England, but quickly transitioned his skills to fit the comedic television market in the United States, as both a writer and correspondent for The Daily Show. He reported at places like the Republican National Convention; interviewed ambassadors, politicians and lobbyists; and also used his merciless droll to comment on British news and the American media. Oliver's self-deprecating demure and ability to use his European upbringing to engage with an American audience made him a fan favorite. Harriet Brown, associate professor at the S.I. Newhouse School of Public Communications' Magazine Department, finds his foreign take on late-night comedy refreshing. "He is a bit of an outsider and I think the outsider's perspective is always a little bit more full," Brown says.
However, when Stewart took his sabbatical from The Daily Show Oliver aimed to keep expectations low. He told fans that his primary goal was to "not destroy the machine" that Stewart had created. He began his first solo show by addressing the transition: "Let's all acknowledge that this is weird, this looks weird, it feels weird, it even sounds weird. It sounds weird to me and this is my actual voice," Oliver said. Then, a reassuring letter from Stewart invaded the screen, telling Oliver he'd do great. "Besides, no big news stories ever break out over the summer," Stewart wrote. After the comedic disclaimers, the screen cut to a clip addressing the National Security Association Scandal and the show got rolling. Oliver delved right in, delivering the sardonic tone that audiences have come to expect. He took advantage of fresh material, such as the recurring segments of the New York Mayoral race and the introduction to Carlos Danger—aka Anthony Weiner—the decisions by the Supreme Court on DOMA, the Voting Rights Act, and the arrival of the royal baby. By the end, Oliver hadn't destroyed Stewart's machine, but rather ran it with the same poise and candor that audiences had come to love. Even Brown is impressed. "He's better than Jon Stewart," Brown says.
Upon Stewart's return at the end of the summer, The Daily Show resumed as normal and Oliver soon departed to begin developing his own form of political satire. It was time for Oliver to craft his own voice and distinguish his political satire from the likes of Saturday Night Live, The Colbert Report, and The Daily Show.
Similarities can be found between all of those shows and Oliver's comedic tendencies. Saturday Night Live's"Weekend Update" and their mocking of presidential debates and candidates parallel his take on serious political issues. But while SNL is an iconic American satire known for covering a range of cultural issues, many political stories, particularly international news, go unnoted. On Stephen Colbert's show The Colbert Report, Colbert assumes the role of a mock conservative character and can present ideas through the guise of his character without having to align himself with a specific ideology. With the construction of this character, he unsettles conservatives and liberals alike. On The Daily Show, Stewart's trademark is the spin of the typical seriousness of the news desk. Stewart has been a trailblazer in the media and shown his influence and connection to the public by confronting partisan media outlets. On one of his most infamous appearances on CNN's Crossfire, Stewart challenged the host's portrayal of the news and ultimately got the show canceled—CNN later revamped and renewed the series. Stewart also led the countermovement to Glenn Beck of Fox News with his "Rally to Restore Sanity" in Washington, D.C. Stewart drew a crowd of over 250,000 people with over four million streaming the event online, spreading a message meant to promote reasoned discussion and counteract extremist political movements.
Unlike Stewart, Oliver doesn't reprimand the 24-hour news cycle. He counteracts it by assembling news stories of the week and releasing them at once for an audience to watch at its own pace. In this era of endless regurgitation there is such a saturation of media vying for attention, but Last Week Tonight offers a remedy: Each week, Oliver gives viewers a manageable portion of in-depth news to absorb, living up to its slogan, "Breaking news, on a weekly basis." Last Week Tonight gives a more in– depth analysis of issues, free of commercial breaks. Segments can go up to 15 minutes and delve into the nuances of complicated issues that do not get thoroughly addressed within the 24-hour news cycle. Professor Shana Gadarian, an assistant professor of citizenship and public affairs at the Maxwell School, is a fan of political satire. She believes Oliver succeeds at what he does because"hehasmoretimeoverthecourse of the week to figure out what they are going to focus on and the long rants are amazing for explaining complicated issues to people."
Oliver's unique segments and unfiltered speech have captivated audiences on a range of issues, from the coverage of India's presidential election, to the corruption of FIFA, to Russia sending Geckos into space, to Uganda's anti-gay policy. Yet the most salient issue that initially gained Oliver praise was his coverage of net neutrality. Oliver exposed the industries' ploy: "The cable companies have figured out the great truth about America. If you want to do something evil, put it inside something boring." Oliver exposed the absurdity that a former lobbyist for the cable company is now the chief regulator of the Federal Communications Commission and, through his wit, made FCC Chairman Thomas Wheeler memorable by calling him a dingo. According to Oliver, letting the cable companies make the rules of the Internet is "the equivalent of needing a babysitter and hiring a dingo." Oliver created a call to action to viewers to go to the FCC's website and comment about the fears of an Internet compromised by the cable industry. Viewers responded and their engagement crashed the FCC's site, bringing national attention to the issue along with the hysterical response from the FCC chairman saying, "I am not a dingo."
When it comes to his success, the numbers say it all. In the initial telecast on April 27 over one million viewers tuned in to the show. The premiere drew in a larger audience than HBO's Emmy-winning comedy Veep and was comparable to The Daily Show's cultivated audience of 1.5 million. After each week's show, Oliver's segments are featured on websites including Huffington Post, Buzzfeed, and The Daily Beast. The show has gained the attention of The Guardian, Rolling Stone, and The New York Times. With this media praise, Last Week Tonight has amassed over 600,000 subscribers on YouTube in the span ofsixmonths.OutofLastWeekTonight's30 YouTube uploads, 24 have received over one million views and the top video alone has seen nearly eight million.
Oliver has confronted the rise of the 24-hour news cycle and incessant breaking news coverage by reforming it. As opposed to just ragging on what happened last week, he reflects on how those past weeks will shape our future. In this age of media based globalization, a humorous take on serious problems is necessary and refreshing.
This article originally appeared in the October 2014 issue of Jerk.