Leg Warmers Are Back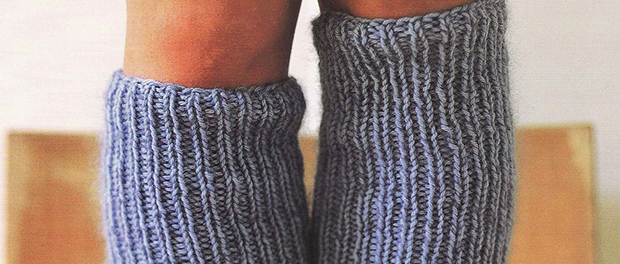 Leg warmers are back, and they're the best accessory to wear for the cold winter months ahead. But these leg warmers are far different from the pairs your mom wore in the 80s. No Flashdance or corny workout videos here.
This is what you need to know: Bright colors and bold patterns are not on-trend. Neutrals or darks are the way to go (think gray, oatmeal, ivory, maroon, and navy). This accessory isn't worn by dancers at the gym anymore. In fact, I do not recommend wearing them to the gym (knit leg warmers do not complement sleek athletic wear). The new leg warmers are meant to be worn with boots to keep legs warm while walking to class or lounging around your apartment. The emphasis is on texture, like crochets, chunky knits, and lace details. They are not to be worn with flats, heels, or sneakers — pair them with tall boots or booties only.
Also good for you to know: Knee-high or over-the-knee socks also work with this trend because when worn with boots, since you can't tell the difference between socks or leg warmers. This gives you plenty of purchasing options (oh, so sneaky). If you also want to experiment with prints, the more modern option is to choose a simple chevron or aztec-inspired print made up of neutrals and soft colors. Free People has a pretty slipper sock option to drool over.
Ready to rock this trend? Etsy has plenty of feminine handmade selections to choose from. Look for interesting knit patterns, both thin and thick versions, and dainty details like small bows or pops of lace peeking out. For bolder looks, turn to Free People. They have fashion-forward and sleek pieces, playful pieces, plus some basics to wear with everything. All of these choices will draw attention to your legs, so just make sure it's a slimming look and you'll look sexy.
If your college budget is screaming out for some help, making leg warmers is an easy DIY. Simply take an old sweater and cut the sleeve to the length of your calf, and look at you, you've got a leg warmer.
So how do you wear them? There are SO MANY WAYS. First, you can wear them under tall boots with them slightly peaking out from the top of the boot. This is playful and just adds a small touch of texture to an outfit. When wearing a dress or skirt with tights, you can layer the leg warmers over the tights to keep you warm. And when wearing booties, you can wear leg warmers over skinny jeans or leggings. If you have a gentleman friend coming over that evening, you can take this accessory from lounge time to play time. Wear them with just an oversized tee, or maybe, nothing at all? Whether you just want to stay warm or have some flirty fun, you have now been prepared to make the most of this trendy accessory.