MTV's "Faking It" Gets Real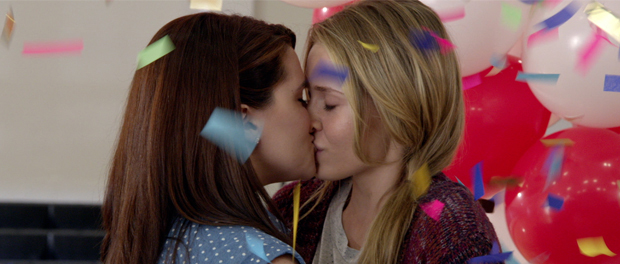 Two best friends pretend to be in a same-sex relationship in hopes of ditching their loser status and rising to popularity. It sounds like a politically incorrect disaster just waiting to happen, but once one of them starts to realize she actually has feelings for the other one, then we've got something to work with.
In the first season of MTV's Faking It, we laughed, we cried, and we awed over supporting characters' Shane and Liam's bromance for the ages. Best friends Amy and Karma went through highs and lows, and eventually the season departed on several major cliffhangers.
One of which was the teased, but ultimately unresolved, plotline involving the mystery around mean girl Lauren's secret pill habit. From prescription party drugs to questionably imported diet pills, anything was possible, but it turns out that homegirl wasn't popping molly's after all. They were hormones. And not the typical "make you fat and dry as a bone" kind either.
It's been confirmed that season two, which premiered this week, will introduce Lauren as an intersex character. Specifically, Androgen Insensitive System, which is pretty much fancy medical speak for someone who is born with male chromosomes, but develops outwardly as a woman. In an interview with The Hollywood Reporter, showrunner Carter Covington says, "We felt like it was a no-brainer because it really frames who Lauren is and why she has walls up, why she is hyper-feminine, and why she is who she is. It's a story I've never heard told before, and our show is all about showing the diversity of experiences that young people are faced with today."
It's a long and much needed milestone in mainstream television, and in honor of that, we rounded up six of the most important LGBT characters to hit film and television.
Edna Turnblad, Hairspray (1988)
In the John Waters film that started it all, Edna is a big girl played by a big name, Divine. The drag queen was the first to bring Tracy Turnblad's overbearing mother to life, and the role has been played in drag ever since.
Hedwig, Hedwig and the Angry Inch (2001)
She's a post-op trans punk singer who, after a botched sex change operation, is left with a cause and one angry inch. What started out as a small independent film has now turned into a full-blown Broadway musical starring Michael C. Hall and, up until recently, Neil Patrick Harris
Santana Lopez, Glee
Apart from being the meanest and wittiest character on teen comedy Glee, Santana's coming out and relationship with fellow cheerleader Brittany S. Pierce was one of the show's sweetest and most convincing storylines, managing to convey authenticity without reading like an after school special.
Max Blum, Happy Endings
The bro-iest and possibly funniest character on this list, Max Blum is the resident slacker of his friend group. The actor has also some great feedback for portraying a gay male in non-traditional ways, showing that not all men who identify as gay are outwardly more feminine. Still, he's painted as a fully rounded character whose romantic relationships and sexual escapades hold their own alongside the show's straight characters.
Cyrus Beene, Scandal
Unlike shows where some same-sex relationships are left under-developed and purely non-confrontational, the White House Chief-of-Staff's marriage to Press Secretary James Novak is a principle storyline wrought with intimate betrayals, winning chemistry, and shock-inducing conflict.
Sophia Burset, Orange is the New Black
It was hard not to include all the ladies of OITNB on this list, but Sophia Burset takes the cake by far. Played by trans actress Laverne Cox (who is coming to SU in October, heyyy), Sophia brings the real-life issues of gender-idenity and the prison system to light.