Who is the Indigo Child?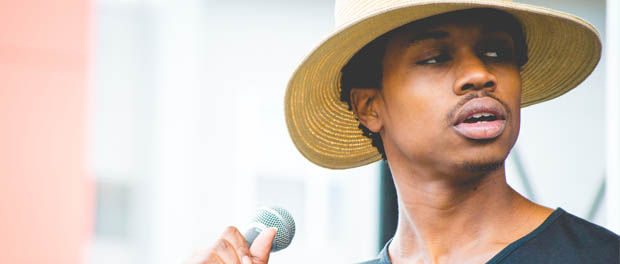 First things first — what the hell is an "Indigo Child?" According to Raury, the 18-year old singer/songwriter/rapper from Atlanta, it's more of an ideal. "My generation, my age group, they grow up within the Internet Age, so they're exposed to all these different types of things…we learn about all these people of different races, sexualities, religions, nationalities, and we learn to accept that people are different because we see it at such an impressionable age. There's nothing that we're not used to."
While listening to Raury's music and watching his videos, you instantly realize that in 2014, teenagers trying to break into the music industry were well beyond their years, both sonically and mentally (i.e., Lorde). The up and coming star already has professional composure, exceptional songwriting skills, and a dope sense of style. From garnering the attention of a fairly relevant rapper named Kanye West to collaborating with SBTRKT, Raury is definitely primed to take the music industry by storm.
His signature wide-brimmed loose hat (move over Pharrell) more than anything coincides with his sound. He's opened up his own lane of music that can't necessarily be categorized into any singular genre, and I love artists who don't make their music to fit in a confined "box." The music just comes out more raw and honest, while creating a sense of relatability between the artist and their fans. Raury's sound can only be described as minimal — atmospheric guitar swooping movies. Raury explains that every song on his 10-song debut EP, Indigo Child, are "a series of life changing movies. I like to make songs that are cinematic in a way. This project speaks from the perspective of young kids today. It's very inspirational and to the people that listen to it, it'll make them want to go and find what they love and use that shit to take over the world."
If that's not reason enough to give his music a listen, he cites influencers such as Bon Iver, Andre 3000, Adele, and Kid Cudi — all wildly successful artists with amazing fan bases. The whole EP is definitely worth the download, but if you do nothing after reading this article, I strongly encourage you to listen to his breakout single "God's Whisper," below.
As far as "fitting in" to the mainstream music scene, Raury feels like he's here to break open his own lane. He feels like kids these days "would rather go and hit a bonfire than hit the club...I always wanted to be that kind of artist where you can listen to it and think 'thank god this person exists. Thank god you can listen to this kind of music now.'"
Raury delivers a blend of alt rock with infused hip-hop savvy that begs the question: Will he follow the same path of teenagers dominating the music industry like the songwriting sensation Lorde? I can personally say, thank God for Raury, because I promise you Indigo Child is like nothing you've ever seen or heard in the music industry.