My Love/Hate Relationship With Halloween Costumes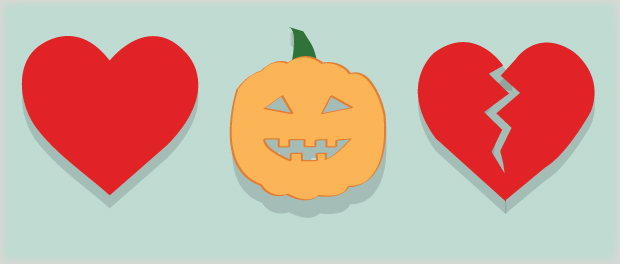 I have a love/hate relationship with Halloween. There's so much hype for the holiday, but without the perfect costume that makes you feel great, you'll be self-conscious all night. And no, you shouldn't have to stand in the corner stuffing your face with candy corn.
A great Halloween costume requires some serious planning. I've learned the hard way that if you leave your costume until the last few hours before the party, it will be a miserable experience, to put it lightly. You can work with what you already have in your closet, but you will always need a few key accessories that I'm sure you don't already own (unless you happen to have an entire trunk devoted to costume storage, don't hate — I really like costume parties).
And it's not cheap to create a fantastic costume. If you're going to buy the whole thing, it will definitely cost you $50 and upwards. Sometimes it's best to opt to make your own costume instead — helloooo Pinterest.
There's also a lot of pressure to be sexy. If you want to look super seductive on this festive holiday, then great! Remember, according to Mean Girls, Halloween is "the one night a year when girls can dress like a total slut and no other girls can say anything about it."
Seriously, thought, women are constantly bombarded with images and costume options that are very sexual. Corset tops, pantless options, and outfits that are pretty much lingerie. So what's a girl to do if that's not quite her thing?
I try to steer in the direction of unique or feminine/adorable. A few years ago, I dressed up as a Bollywood star. And yes, I was the only Bollywood star on my entire campus, so of course I got many compliments on that ensemble. Last year, I dressed up as a sailor with a cute nautical outfit, sailor hat, and red lips. It was a cute outfit and NO ONE could deny how darn adorable I looked with a big smile on my face. Sure, maybe my boobs weren't flying out, but who could resist a smile from ear to ear — shout out to my girl, Annie.
There are a few reasons why I love this holiday. First off, it's an excuse to wear AS MUCH GLITTER AS I WANT. And no matter my costume, I always find a way to make it rain glitter.
This may be the holiday known for slutty dressing, but it's also the only day of the year when you can dress up as whatever you want, and no one can say anything about it. You want to be the icy Anna Wintour? The colorful Buzz Light Year? Or the Spice Girls with your best friends? You can do it! Just do it well and make your fellow Americans proud of our unique and over the top holiday.
Art by Shawna Rabbas