5 Packing Essentials for Thanksgiving Break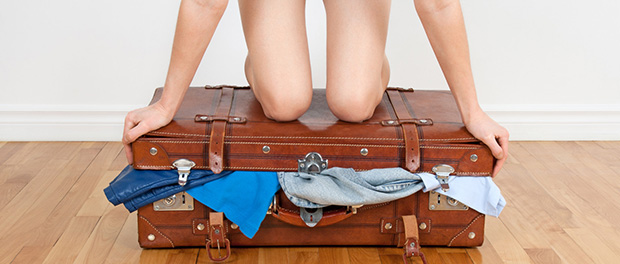 Thanksgiving is just around the corner and I know what you're thinking: "Shit — I gotta see my parents now and not look like I haven't slept in a week and drank way too much coffee" #TheWalkingDead. It's time to get your shit together and start dressing like an adult, at least for the duration of your stay. The most difficult part of any vacation: the packing part, because it is so easy to over pack your suitcase with unnecessary items.
A travel capsule wardrobe allows you to keep your clothing pieces to a minimum, packing only the essential items that you can style with versatility. Here are five key pieces you need to include in your travel bag for this Thanksgiving break.
1. T-shirt dress This look is all the rave lately for its effortless ease and how god damn comfortable it is. It's like wearing your boyfriend's oversized T-shirt, but actually as a dress. Whether black, white, or black and white striped, the outfit possibilities with this piece are endless. You can dress this up with a leather jacket or go for a more casual look with some simple cutout boots.
2. Knit cardigan Cardigans are a must because they are perfect for lounging around the house, but also cozy as a layering piece. Throw a knit cardigan on top of your T-shirt dress and there, you have an outfit. The slouchiness (yes, that's a word) of these cardigans give any outfit an "I don't give a fuck" vibe while still looking put together.
3. Oversized flannel In my opinion, everyone should have at least one flannel in their wardrobe just because it is such a timeless and classic piece. You can also layer this over your T-shirt dress or tied around your waist for a retro look. Flannels can be a quick and easy solution to dressing down any outfit to portray a more laid-back style.
4. Jogger pants Let's be real, the most action you're gonna get this break is probably from making that food baby on Thanksgiving day. This is exactly why you need to bring yourself some joggers to hide your stomach to be comfortable. Jogger pants will literally save your life when you realize you can't fit into any of your jeans anymore — they are the perfect balance between athletic chic and just looking like a peasant.
5. Black skinny jeans We all know it already. Everyone has his or her perfect pair of BSJ's because a wardrobe cannot possibly function without this piece. The best thing about black skinny jeans is that they thin down your frame and give you that slim figure that you didn't work for. Black literally goes with anything. You can wear this piece with any outfit and still look put together, even though we all know you are dying on the inside when all your relatives bombard you with the question "What are you plans after graduation?"
All of these pieces can be easily mixed and matched with one another to create multiple outfits for your one-week vacation. For those of you staying in Syracuse over Thanksgiving break, may the odds be ever in your favor and I am so sorry that you are not from the East coast.
Remember: less is more. Don't try to pack unnecessary items in your suitcase because they will end up not being worn and just becoming extra weight to your luggage. What are some tips and tricks you have for packing? Let us know in the comments down below or show us your packing skills with the hashtag #jerkmagazine by tagging @JerkMagazine.