Party Down South: Michael Christmas and Sweater Beats at Skybarn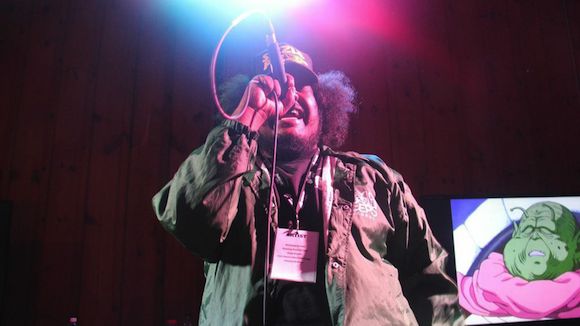 Students filled SkyBarn on South Campus Thursday night to see rapper Michael Christmas and DJ Sweater Beats perform. The wooden panels of the floor and the walls were lit up by blue, red, and green lights as Jake, an SU student, took the stage to DJ and spin some original beats.
Next, Michael Christmas, from Boston, Mass., took the stage. When asked who his biggest influence are, he answered, "I'm more inspired by comedians and actors rather than other artists, nut I'm really inspired by Outkast right now. I've been going to the studio and doing Outkast stuff. And my whole life I've been influenced by Wiz Khalifa." You could definitely hear a Wiz influence as he performed.
He ended his set by freestyling, showcasing both his talent and his humor. When asked what the future looks like for him, he answered, "Besides touring and continuing to make music, I'm trying to write TV and commercials." Christmas is a well rounded talented man, interested in doing everything, and by the laughs that he produced and how hype he got the crowd, I could tell that we will see a lot more of him in the future.
Sweater Beats, a DJ whose real name is Antonio, took the stage soon next. Trippy images played on both sides of him as he played his set. He started off with very relaxed sounds that gave off airy and heavenly vibes. In a way it reminded me of Kygo's remix of Marvin Gaye's "Sexual Healing," but Sweater Beats has a sound that is totally unique.
He did an awesome job building the suspense of the beat drop, making the crowd crave it and wait for it, and then go wild when it finally did. Some of his jams seemed sort of nightmare-ish, but in a good way, and others were really poppy and playful. He remixed many songs from "IDFWU" to "Shimmy Down Bang Bang."
Sweater Beats is a Filipino-American born and raised in Brooklyn. I asked him how he was able to make it so big (he's played many festivals, including Firefly this June) in a world where everyone has the ability to now create beats on their laptop.
"I didn't know what was going to happen," Sweater Beats says. "I was just making music and putting it on soundcloud. I've been making music since I was like a teenager and in like emo bands and stuff. But yeah, it just kind of took off I guess because people started hearing it and I got hella blog love and so then other artists started putting it out and it was really cool."
Sweater Beats has come a long way from the emo bands he used to live by. It was actually Ratatat and Daft Punk that made him fall in love with the EDM scene. When asked who his ultimate collaboration would be with, however, he said, "Timbaland is my favorite producer ever, followed very closely by Pharraell. Rihanna. Beyoncé, like, who wouldn't?"
A Sweater Beats/Beyoncé collab sounds like the ultimate combo to me and I would love to see that happen. Sweater Beats is definitely the next new artist to look out for in the EDM world.
Photos by Adham Elsharkawi