The Best Albums to Pre-Order Now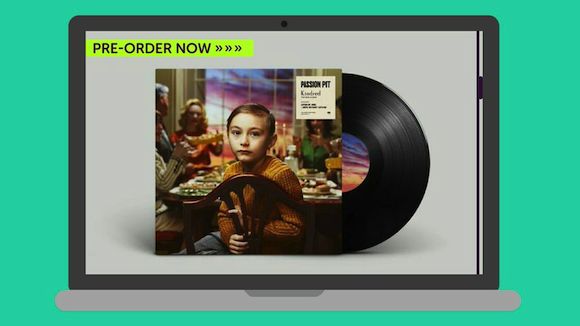 Bored of the music you've been listening to for months and of the songs you've been hearing on the radio since summer? Have no fear — there is a shit ton of amazing albums coming out within the next months, so spare your ears and get on your pre-ordering now. All of the albums have a few songs you can preview before deciding to to go ahead and purchase the whole thing, but I guarantee after hearing the new songs your favorite bands have to offer and discovering the best new artists that are out right now, you're going to want to spend that $15 or less to pre-order. I know that I'll be skipping my weekly Chipotle trip and spending my burrito money on some of these.
Indie:
LOVETAP! by Smallpools Smallpools was just on tour with Magic Man, who recently graced us with their presence (and music). I have an unhealthy obsession with the song, "Dreaming," which is on the album. It will make you just want to get up and dance.
Kindred by Passion Pit Passion Pit is back with more trippy tunes and high-pitch melodies. "Lifted Up" sounds like something off their first album Manners. "Where the Sky Hangs" seems like a unique song for Passion Pit, with a very poppy feel.
Wilder Mind by Mumford & Sons The folky band is back with more amazing songs. Although only one single from the album has been released so far, "Believe," with its soft guitar and powerful lyrics, it creates many emotions and I can't wait to see what else the Mumford brothers have to offer.
Rap/Hip-Hop:
I Don't Like S**t, I Don't Go Outside by Earl Sweatshirt The Odd Future member sounds a lot like Tyler the Creator in the single off the album Grief. The song is very dark and simple, and listening to it makes me feel like I'm in a nightmare (in a good way).
Mr. Wonderful by Action Bronson A chubby man with a ginger beard, Action Bronson's voice is comparable to that of either Kid Cudi or J. Cole in the song "Baby Blue," which features Chance the Rapper.
The Album About Nothing by Wale Wale's new album features Jeremih, Usher, J.Cole and other R&B/hip-hop friends, which make it a killer one. There's a good chance you've heard "The Body" at either a frat party or on the radio.
Country:
Jekyll + Hyde by Zac Brown Band Zac Brown Band is coming out with a new album just in time for summer. So while you're laying by the pool, drinking a Corona, put on this album for the best sunshine vibes. Plus, the song "Homegrown" will make you super nostalgic.
Southern Style by Darius Rucker Ironically, Darius Rucker's biggest hit on his newest album is called "Homegrown Honey," similar to ZBB. Rucker always produces the best country hits for that late night pool party, and this song is just another example.
Alternative:
Future Hearts by All Time Low Since middle school, ATL has been making fun, pop-punk songs that celebrate us being young. Their newest hit, "Kids in the Dark," does just that, and lead singer Alex Gaskarth still has his boy band voice once again making girls everywhere swoon.
American Candy by The Maine The Maine, like ATL, has been making us fall in love since middle school, and now they're back with another album. Plus, their coming to Syracuse in early May, so make sure you learn this album before you see them live (John O'Callaghan, lead singer, is a beaut, so I recommend it).
New Artists:
Handwritten by Shawn Mendes Will Shawn Mendes be the next Justin Bieber? Maybe with those cheekbones, although his sound is very poppy so it's definitely different from Biebs. His voice sounds similar to that of either One Direction or One Republic and the songs to look out for are "Stitches" and "Life of the Party." Beware, world: There's a new teenage heartthrob out there.
Not an Apology by Bea Miller With a voice like a combination of Sia and Ellie Goulding, Bea Miller is going to be huge. Bea is the new best artist to belt to as you're crusin' — listen to "Young Blood" and "Fire n Gold" and you'll totally see what I mean.
The Fool by Ryn Weaver Ryn Weaver's biggest hits right now are "OctaHate," "Stay Low," and "Promises," and they all sound totally different. This is because Ryn's voice is very unique, making her stand out in the world of music. Her songs are a mixture of R&B, jazz, and indie which makes for some killer tunes.
Art by Shawna Rabbas