The Birks Are Back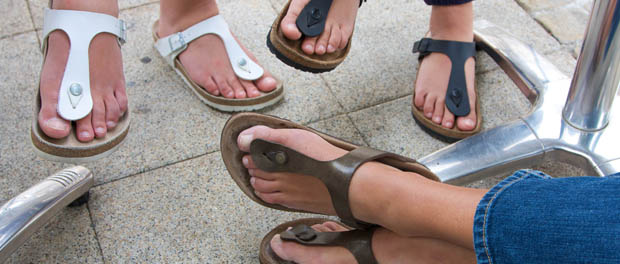 Birkenstocks — let's face it, they're the bomb dot com. The sandals have been resurrected as the ultimate fashion statement due to their comfort and versatility. These hideously stylish shoes have been around the U.S. since 1967, but why have they become all the hype only just recently?
This has been the year for retro and vintage styles. As more and more fashion bloggers and style gurus start sporting them, Birks are the most talked about shoes in the street fashion industry. Birks originally gained their popularity in the 80s among medical professionals who were constantly on their feet. Due to the flexible insole support that the shoe provides, they have since gained popularity for being stylishly comfortable.
Initially designed as house slippers in Germany, these sandals have made their way to the U.S. as everyday essentials for an effortless-yet-chic look. The simplicity of these shoes is what's driving the trend, as both minimalistic and monochromatic palettes are showcased from the runway to the street.
Pairing Birks with a more feminine outfit will dress it down and add a tomboy edge to the look. The casual ease of the outfit can also ground a very polished look, making it appropriate for everyday wear.
Running late to class? Throw on some harem pants and Birks and just call it a day. The top selling point of Birks is that not only do they make it feel like you are walking on clouds, but they're also way easy to put on. The slip-and-go concept is a blessing for lazy shits like you and I. 'Stocks are basically the fashionable version of Crocs — yup, I went there. Another perk to Birks are that they literally go with any outfit. Save yourself the hassle of trying to mix and match shoes with your clothes, because these sandals will comply with anyone's wardrobe.
The wide range of selections in Birkenstocks can be a bit overwhelming, but the myriad of options cater to everyone's style. The selections of material include suede, oiled leather, and patent leather, which all oversee distinct aspects of fashion. The different styles which Birks offer also provide versatility to the brand and make the sandals more personalized.
High fashion reinventions of Birks are also prevalent on the runway, with various designers showcasing the trend during New York Fashion Week. Powerhouses like Givenchy, Céline, Marni, and Isabel Marant recreated the classic Birkenstock look, transforming them to runway-ready. The iconic sandals demonstrate what can be appropriate both as street fashion and as high fashion pieces.
Take advantage of these last few days that don't require a Canadian Goose jacket here in the 'Cuse, because winter is coming (I see you, Game of Thrones fans). Do you think this trend will persist or do you think this is simply a trendy trend? Share your Birkenstock looks on Instagram by tagging @jerkmagazine!