Katy Perry vs. Taylor Swift: It's About To Be a Girl Fight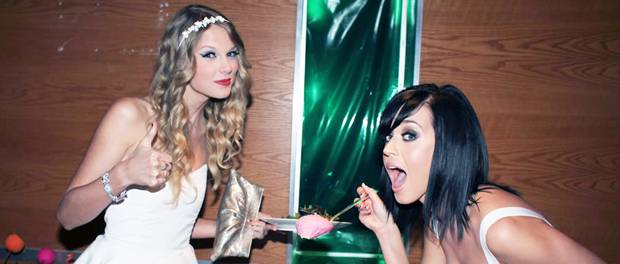 Katy Perry. Taylor Swift. These ladies are two of the biggest pop stars in the world. But, don't expect these gals to be spotted sipping on cocktails at The Ivy or collaborating on a hit single anytime soon.
In Taylor Swift's recent Rolling Stone cover story, Taylor both called out and bitched out a nameless ex-friend, who is reportedly Katy Perry. Allegedly, their feud sparked after Katy stole a number of Taylor's backup dancers. It wouldn't be surprising if the crooners were also sour because they both boned John Mayer.
Whatever it is these singers are feuding about, it doesn't seem like the dust will settle anytime soon. Here are some of our thoughts on everything these celebs could possibly be fighting over:
1. Taylor knows she will never be as bad of a bitch as Katy. The headline on Taylor's latest Rolling Stone cover reads, "The New Life of Taylor Swift," and she makes a more than lame attempt to look slightly more badass on the cover in a wet, white t-shirt on (oh, and is she NOT wearing a bra?!). Come on Taylor, please accept the fact you will always be a basic betch, and go back to drinking your PSL — you're not alone.
2. Taylor's backup dancers bailed on her tour for Katy's because, like, who wouldn't rather dance to "Roar" than "Shake It Off"?
3. In a surprising turn of events, John Mayer spilled that T-Swift is actually better in bed than Katy. Who would have ever guessed T-Swizzle is kinky as shit? Christian Grey, better get your handcuffs ready.
4. Everybody knows that Taylor Swift loves to channel her inner 50s pinup girl and wear some bold, red lip. And, (SHOCKING!) Katy Perry loves to do the same. It's a Battle of the Red Lips, bitches.
5. Katy just can't get over the fact that her ALS Ice Bucket Challenge video didn't even get half as many views as Taylor's. You can't win 'em all, honey.