The Definitive Ranking of Every Kardashian Series Ever Made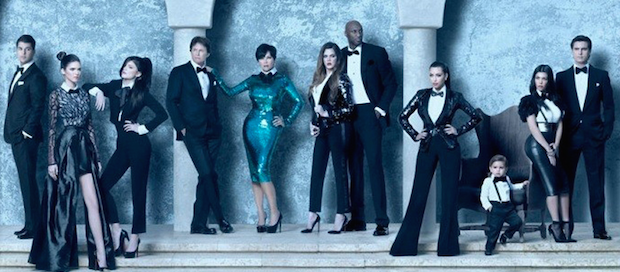 Love them or hate them, the Kardashian family is everywhere you turn. Seven years ago, this wild and crazy family took over our TV screens, and the world hasn't looked back since.
Last night was the premiere of Kourtney and Khloe Take the Hamptons, yet another spin-off of the hit Keeping Up With the Kardashians franchise. So, where does this new series fall on the Kardashian spectrum? Don't worry — here is the ultimate, definitive ranking of every Kardashian show in existence. Buckle your seatbelts, people, because it's going to be a curvy ride.
8. Kourtney and Kim Take New York (season 1) At this point, anyone who has ever seen any episode of the Kardashian series has learned one thing: Kim is without a doubt the most boring person in the entire family. In season one of KAKTNY, Kim is fresh out of a relationship and actually the most uninteresting single person to ever walk the streets of New York. Kourtney and Scott spice things up a little bit with their usual relationship drama, but seriously, if you haven't seen this season, don't feel bad. You're not missing out.
7. Khloe and Lamar So, you would think with Khloe being one of the funniest and most personable in the Kardashian klan, her stand-alone spin-off series with (former) hubby Lamar would be a success. Well, not quite. Watching Khloe follow Lamar around for his basketball career, talk to him in a baby voice, and constantly call him "Lam-Lam" surprisingly gets old reaaaaaally fucking fast. The bright side of them filing for divorce? We won't have to worry about sitting through another season of this dull series.
6. Kourtney and Kim Take Miami Does anyone else remember this series? Because I surely don't. According to my research, this spinoff season followed Kourtney and Kim as they opened their second DASH store in Miami. Khloe had some other "work commitments" which is why Kim took her usual spot (ugh). This season probably had its golden moments, but if even I (a self-proclaimed Kardashian connoisseur) can't remember some highlights, I'd give it hands-down meh.
5. Kris Although it was short-lived, you've got to admit, Kris Jenner hosting her own talk show was pretty legendary. Yeah, the most interesting episodes were when Khloe and Scott co-hosted, but it still managed to be slightly entertaining. And hey, Kris even got Kanye, who NEVER, EVER, EVER (or rarely) shows his face on any show attached to the Kardashian name, to appear on the finale. Snaps to Kris!
4. Kourtney and Kim Take New York (season 2) You're probably wondering, if season one of KAKTNY was so dreadful, what would make season two any better? Watching Kim and now ex-husband Kris Humphries' marriage fall apart of course! Their nuptial dissolution on camera proved slightly awkward, but it definitely made for some great reality TV. And as you watch back old episodes, you even sort of begin to empathize with Kim's decision to end her marriage after a mere 72 days. End story? Kris Humphries was a total dickface.
3. Kourtney and Khloe Take the Hamptons Without a doubt, this series is bound to bring some drama to our TVs. What's to come on this season? Kourtney and Khloe opening a new DASH store in the Hamptons, Kourtney's pregnancy (and her adorable pregnancy fashion that goes along with it!), Scott's wild behavior in response to Kourtney's pregnancy and his parents' death, etc, etc. Sounds like a good time to me.
2. Kourtney and Khloe Take Miami There's no question that each season of KAKTM is one to remember. Who can forget Kourtney discovering she was pregnant with baby Mason in season one, or Scott punching a glass mirror in season two? Or how about that time Kourtney gave Khloe a bikini wax before Lam-Lam's visit and she burned her vag. Ahh, the memories. If you haven't seen any episodes of this spin-off yet, there is a serious void in your life. Just FYI.
1. Keeping Up With the Kardashians The original, the classic, the one that started it all. When in need of a serious Kardashian binge session, the original KUWTK is the way to go. Seriously, what is this show missing? Each family member on it is a true character and adds to the show in his or her own unique way. Unlike every other spin-off, this series is the only one that shows the dynamics of the whole ridiculous, over-the-top, crazy fam. It's also great to watch earlier seasons and remember when Kim taught us some valuable life lessons like, there's no such thing as too many white accessories: