Yes, Serena and Venus Williams Are Women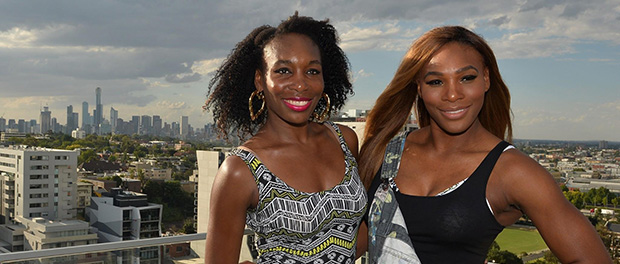 This past week, Russian Tennis Federation President Shamil Tarpischev was fined $25,000 and suspended for one year from the Women's Tennis Association Tour after not only calling Venus and Serena Williams "The Williams Brothers," but for also saying they looked "scary" while appearing on a Russian television show.
Just in case the fine and the suspension weren't enough for Tarpischev to learn his lesson, maybe this list below will clear up for him how and why Venus and Serena Williams are ambitious, beautiful, talented tennis players and women.
1. They have strong and beautiful bodies. Not all women are going to be super model thin or petite. Venus and Serena Williams have curves, muscles, and tall figures. But what's wrong with that? Tarpischev is just giving into the conversation that all women should look a certain way to be considered feminine. Just so Tarpischev's aware, Venus and Serena's strong and athletic bodies have helped them win tennis match after tennis match.
2. They're far from scary. Scary is that clown on American Horror Story (can he leave?). Scary is that doll in the new movie Anabelle. Venus and Serena Williams are far from scary. I don't know what Tarpischev sees when he looks at the Williams sisters, but I see role models. I see women who have paved the way for other young women interested in tennis and athletics in general. I see women who have won more than 20 Grand Slam Singles titles between each other. I see women who have forged ahead in a sport and broke boundaries that others couldn't.
3. They're highly intelligent women. Venus and Serena are not just smart and successful on the court, but they also have other smart business ventures off the court. They both have their own clothing lines (Serena just debuted her clothing line with HSN at New York Fashion Week last month) that don't look scary or for a man's body at all. It was only a couple days after she'd won her 6th U.S. Open title. Venus Williams has an Associate's Degree in Fashion Design from the Art Institute of Fort Lauderdale (girlfriend played tennis and got a college degree?) and she also her own clothing line EleVen.
So, sorry not sorry, Tarpischev — Venus and Serena Williams will continue to dominate the world of tennis and the world of fashion simultaneously, while also still maintaining their womanhood. Who run the world? Not Brothers.