5 Ways to Online Shop Like a Pro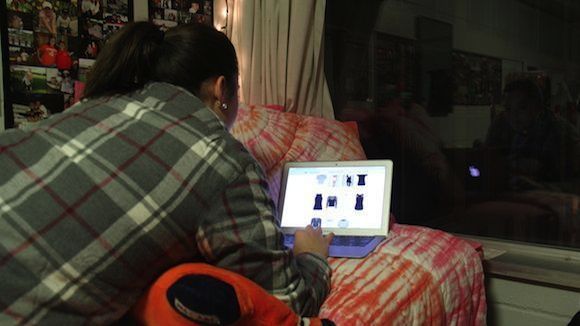 "Get in loser, we're going shopping."
Hold up. In 2004, this classic Mean Girls scene was nothing out of the ordinary — we lived for after-school mall trips with our crew. But these days, shopping malls are about as terrifying as Regina George's fashion choices. Who wants to deal with crowds of Frappuccino-armed 12-year-olds, insane lines, unorganized clothes, and cranky salespeople? Enter: the Internet. Take advantage of it, and you'll have boxes of clothes coming to your mailbox before you can even leave your bed. Here are the ways.
1. Know the code. Promo codes, student discount codes, random sales — you'll never know unless you try. Just Google the store's name plus "promo code" or "student discount" and you might just find yourself with a few more dollars in your wallet. There are even separate sites devoted to student discounts. Sign up for an account at Unidays for discounts at Urban Outfitters, ASOS, ModCloth, Ann Taylor and more. A StudentBeans account will score you 10 percent off at Topshop, plus tons of other deals. Lastly, before checkout, do a quick search at RetailMeNot for limited-time coupons and promo codes.
2. Love your e-bae. Don't be afraid to shop eBay. Scouring resale sites is one of the best ways to infuse cool vintage pieces into your wardrobe. Search for specific fabrics, designers and measurements to get the best results. And if you're nervous about sizing for clothes, there are always accessories.
3. Stalk that store. You know, that one store that you're obsessed with. Do some detective work — check its site often to find out when it usually has sales and you'll start to pick up on their discount cycles. Most stores have set times that different items will go on sale — if you study it hard enough, you'll see the trends and be able to figure out exactly when to make your next big purchase. It's not necessarily a fun task, but studying shopping is certainly better than studying for your next test.
4. Flash 'em. To all the adrenaline junkies out there, get ready for flash sales to become your newest addiction. Shop Gilt or Haute Look to find amazing prices on high-end clothes and accessories. But hurry, there's only two minutes left — GO, GO, GO!
5. Scout the best boutiques. Most of us have experienced the trauma that is Forever 21 and have sworn we will never re-enter. Try these sites that offer tons of cute clothes at decent prices and don't require medication upon checkout: Markkit, DailyLook, Red Dress Boutqiue, Shop Riff Raff, and Show Me Your MuMu.
Photo by Adham Elsharkawi