A Real Life "Pitch Perfect" is Happening at SU This Weekend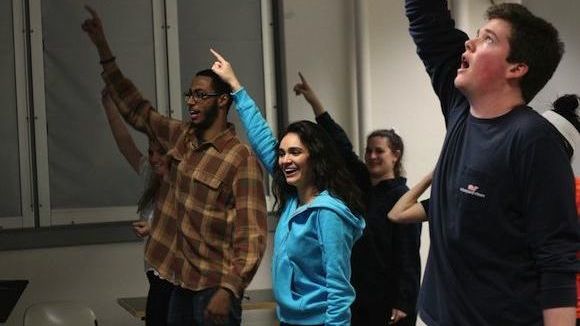 Syracuse University is about to look like a scene straight out of Pitch Perfect, but without Fat Amy and hopefully without vomit (if you don't know what I'm talking about, you should watch the movie ASAP). The International Championship of Collegiate A Cappella's Mid-Atlantic Quarterfinal is coming to Hendricks Chapel this Saturday, January 31, and and two of Syracuse University's a cappella groups have made it to the big leagues and will be competing.
Groovestand and Oy Cappella go up against eight other a cappella groups from various colleges including Rutgers, Johns Hopkins, and University of Rochester. The two groups qualified for the ICCAs by sending in an audition tape of their group singing three songs.
After the quarterfinals on Saturday, the top two groups will move onto the semifinals. I spoke with McCauley Braun, the president of Groovestand, and David Tye, the president of Oy Cappella, about what they anticipate for the ICCAs this year.
Has your group ever qualified for the ICCAs before?
McCauley Braun: Yes, we have qualified many times before, including last year.
David Tye: This is actually our first year ever trying out. Beforehand, there was not really that much interest in even trying out. But at the beginning of the year, I asked the group if we wanted to go for it and there was an overwhelming vote for at least trying. I knew this was going to be good exposure for our group, and at the very least, we would have an experience that was new to all of us.
What is the biggest goal for the group during the ICCAs? Moving onto the semi-finals, yes, but any personal goals for the group?
McCauley: One of my favorite parts about the ICCAs is that the group inherently becomes closer because of all the time we spend together rehearsing. I think that's one of the dreams for any group on campus — to be one loving, cohesive group — then all of the music, choreography, and logistical stuff takes care of itself.
David: I think that one of the most important goals, at least for me, is to make the group closer. Yeah, winning would be nice, but I think since we are all new to the ICCAs, I just want my group to have fun while we are competing. If we have fun while performing, it will become a domino effect where we know we tried our absolute best and, in turn, we hope to sound great. Being in a cappella, if you can't have fun then what's the point?
What can audience members look forward to during your performance?
McCauley: During our performance, audience members can look forward to a variety of music: We have an up-tempo pop song, more of a ballad song, and a then a classic rock song. Also, we have some pretty elaborate choreography which will be very exciting to watch.
David: I think audience members for this performance can definitely expect a fun, energetic couple of songs that hopefully can get everyone excited about being on our home turf. I think the songs we have chosen show that we are versatile, but they also have a little bit of an edge to them with very distinguishable sounds as well as great soloists.
Does your group have a favorite song/artist/genre that they like to perform?
McCauley: We usually stick to pop music, but I think we are very versatile and we have the ability to do many different genres. For example, we've done a Bon Iver song, we've done a jazz song, and our most recent change of pace is a classic rock song which we will be performing at the ICCAs.
David: I think that, at least from my perspective, one of our favorite artists to cover is Ellie Goulding because she is Jewish and I think we always sound great when we perform her songs. Ellie Goulding isn't the typical pop star sound because she includes some deep beats as well as some descriptive lyrics. One of our things that keep us distinct is that we always choose a song that has some type of Jewish connection. Whether it be the artist being Jewish or the writer of the song, we don't want to deviate from that because it's a nice little tradition we have kept going over the years.
Don't miss McCauley and David and their aca-mazing groups on Saturday at Hendricks Chapel. Tickets are on sale at the Schine Box Office.
Photos by Adham Elsharkawi