The 6 Best Places to Get Freaky on Campus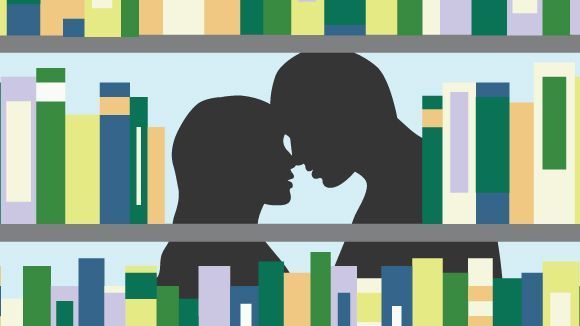 It's the start of the semester, and whether it's reuniting with your significant other or finding yourself a new fuck buddy for the year, bottom line is people are going to be getting some. While sex is a beautiful act, most of us college kids just want to get down and dirty almost anytime and anywhere. I mean, come on, how many times have you heard that guy in class brag about "getting dome in the Dome" or overhearing a couple of girls wonder what it's like to have sex on the quad? Whether you're looking to spice things up or if you're just feeling a tad bit more adventurous, here's a list of the top sex spots on our good 'ol Syracuse campus.
Note: The Difficulty Rating is based on how plausible it would be to actually have sex in a certain spot, the odds of getting caught, and if accomplished, how boss you'd be.
1. Any bathroom or study room on campus Calling all amateurs! These are the spots that will ease you into (somewhat) public sex. Anywhere where you can close the door and lock it isn't very risqué, but I guess it's still considered public, per se. To add some spice, maybe try the bathrooms or small study rooms in the busier buildings on campus since half the fun is the possibility of getting caught. Difficulty rating: 1/10
2. Top floors of Bird Library It's a step up from the amateur bathrooms, and you'd be surprised and grossed out to find out just how many people have stained the bookshelves of Bird Library. The top floors provide a lot more hidden corners, study rooms, and shelves for you and your study buddy to work hard together. And with the added element of having to keep quiet, it could be one hell of a study session. Difficulty rating: 3/10
3. The Quad Perfect for the exhibitionists, the Quad is where you need to go to see and be seen. For obvious reasons, this spot would be slightly easier to get away with during the night. However, if you're willing to risk it to get his or her biscuit, march over, strip down and do it during the daylight. Look forward to tons of Snapchats, Instagrams and possibly an expulsion letter awaiting you but hey, it's worth the bragging rights, right? Difficulty rating: 5/10 (day) and 10/10 (night)
4. The Life Sciences greenhouse This is one spot where you'll really get hot and heavy. Located right on the roof of the Life Sciences Complex, nothing says "I'm King of the World!" more than having sex in a humid environment (a blessing in our subzero weather) while overlooking the rest of campus. I've been told that the only obstacle with this spot is that you have to get clearance and key card access to get in. Once you do, though, take a cue from the plants and fertilize away. Difficulty rating: 6/10
5. Crouse bell tower There's no better place to make sweet music than the historical Crouse College bell tower. While it's quite a climb up (70 feet or so) and finding someone who has keys to the bell tower might be complicated, both the beautiful view of campus and the adrenaline rush will be worth it. Extra points if you can ring the tune of "Bang Bang" while doing it. Difficulty rating: 7/10
6. Schine bookstore changing room Having sex in a changing room isn't that big of a challenge, but doing it in the Schine Bookstore might be. Constantly under surveillance of the ever-helpful staff, this is one spot that you might need to figure out the logistics of before jumping right in. Extra points if you do it while wearing an SU foam finger , because at that moment, you ARE number one. #schoolspirit Difficulty rating: 8/10
What do you think of my list? Hate it, love it, or if you feel I missed out a spot on campus, feel free to comment below. Happy campus touring!
Art by Shawna Rabbas