Basket(s) and Pizza Party Kill It at The Westcott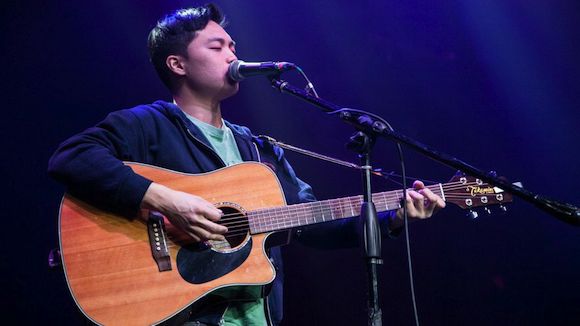 The Westcott Theater was taken over on Friday by a couple of the best bands 'Cuse has to offer. Indie bands Basket(s) and Pizza Party, who are made up of SU students, headlined the Westcott Theater and killed it.
Basket(s) is a three piece band consisting of James Yu, Dave Xu, and Lazaro Sanchez. Their guitarist Dave is studying abroad this semester, so they had a replacement guitarist learn their songs the same day of the show, and he didn't miss a beat. They opened with a very rhythmic, melodic piece to display their instrumental talent, and segued into a piece that displayed lead singer Yu's incredible voice and range.
Connecting over their mutual love of music, the guys formed their band in the Brewster, Boland & Brockways Halls laundry room during their freshman year and soon became the aptly titled Basket(s). In an interview with The Daily Orange, Basket(s) was very vocal about their music inspiring them to want to help and get more involved in the issues in the city of Syracuse. I can tell this inspiration directly affects their uplifting, powerful lyrics such as "Someday dreams follow through, someday we'll get to you." Before performing this song, Yu said, "this is a song I wrote for homeless people." My favorite part of Basket(s)' set was their cover of "Sunday Morning" by Maroon 5, where Yu definitely did Adam Levine's vocals justice.
"Get in closer! It's a pizza party!" were the words uttered by Jesse Katzenstein, the guitarist for Pizza Party, who were up next.
This band consists of Katzenstein, Will Taggart, Will Skalmoski, and Eric Zidar, all sophomores in the Bandier program. Now I'm pretty sure you guys are thinking the same thing as me — where in the hell did the name Pizza Party come from? Well according to Katzenstein he and his roommates were looking for inspiration for a band name, when he saw a T-shirt that said "Pizza Party" and an empty Domino's box in their apartment. This, Pizza Party was born.
Off the bat, Pizza Party's energy and charisma shined through their set. They were very energetic and comfortable on stage, which is surprising given they haven't had much experience performing in front of a crowd. In return, they got a great crowd reaction. Bucking the norms of a stereotypical "rock band" they incorporated a saxophone and trumpet into a couple songs. This added a very different, yet creative dynamic to their set. A few bright spots for me were Taggart's guitar solo, their rhythmic, spirited cover of Kanye West's "New Slaves," and their crowd-imposed encore.
I didn't know what to expect going in to this show on a freezing Friday night, but Basket(s) and Pizza Party exceeded my expectations and turned me into a fan. These young acts are sure to get bigger and bigger as they hone their craft and continue to put on great live shows. As Basket(s)' "Rescue Me" lyrics say, "Time will tell, time will tell…"
Photos by Olivia Monko