Jerk's Playlist for All You Singles This Valentine's Day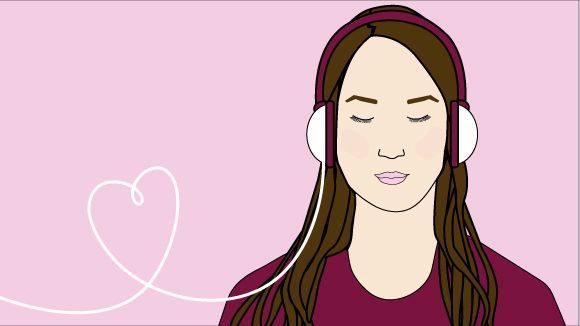 If any of you are like me and forgot to get engaged before this Valentines Day (unlike my ex or most of the kids I went to high school with), or also like me, are spending your Valentine's Day with your roomies pondering how fucking single you all are, here are some good songs to jam to. These will either let you embrace your independence or allow you to express all the feelings you have towards your former flames, but to a catchy beat. Here's my eclectic "singles" playlist.
1."G.O.M.D." by J.Cole
https://www.youtube.com/watch?v=6LpPoDTmhQA
The title basically says it all. To any annoying, clingy exes out there still trying to contact you: "Get off my dick."
2. "FU" by Miley Cyrus ft. French Montana
https://www.youtube.com/watch?v=uV8ZqWwyYzQ
This song is all about someone breaking your heart, but instead of even worrying about it, just raise up your middle finger to them and say FU.
3. "Ridin' Solo" by Jason Derulo
https://www.youtube.com/watch?v=8ESdn0MuJWQ
After listening to this song, you'll never want to be in a relationship again. It just makes single life sound so freaking good. I mean who doesn't want to feel like a star who can't stop shining and is on cloud nine?
4. "Outta My Head (Ay Ay Ay)" by Ashlee Simpson
https://www.youtube.com/watch?v=6-bCN2ur3pg
This song has the uplifting message of telling any ex to shut up. It will persuade you to stop thinking about that significant other because it's just not worth it.
5. "Seventy Times 7" by Brand New
https://www.youtube.com/watch?v=WnLJ1iYOZHM
Possibly the angriest song about an ex ever, and it is guaranteed to get you pumped up. We all know someone to think of when screaming lyrics like, "Don't apologize, I hope you choke and die."
6. "Meet Me In The Pale Moonlight" by Lana Del Rey
https://www.youtube.com/watch?v=Gnypqx13QHc
For all the Lana fans out there, you can't find this song on any album, but it's one of my favorites. It has a little more of a groovy tune and the lyrics are sort of promiscuous. It makes you want to go out and dance, not tied down to anyone. "Understand this, I'm not looking for true love tonight."
7. "I Don't Fuck With You" by Big Sean
https://www.youtube.com/watch?v=cZaJYDPY-YQ
You can't go to party anymore without hearing this song. But come on, we all have someone in mind when we sing along to it. IDFWU!
9. "MakeDamnSure" by Taking Back Sunday
https://www.youtube.com/watch?v=4ldjbjwim4k
Maybe the second angriest band ever to exist, next to Brand New. "I just want to break you down so badly." We all have that one ex whose life we want to ruin, so listen to this and have fun fantasizing about ways to really ruin that life.
10. "Cheers (Drink To That)" by Rihanna
https://www.youtube.com/watch?v=ZR0v0i63PQ4
I've never heard a song that just makes me so happy to be single. Whenever you hear it you feel like you're at the bar, with a bunch of single people, celebrating the fact that you're single. "I'd Drink To That." So when you're sitting in your ratchet dorm room, alone, on Valentine's Day, turn this one way up.
11. "What's That Spell" by Dillon Francis
https://www.youtube.com/watch?v=LgQl4PluO_c
This EDM song doesn't have many words to it, but what single person doesn't enjoy raving and screaming "FUCK" when they're angry or upset with an ex?
12. "Killin It" by Krewella
https://www.youtube.com/watch?v=EZ9-1WD-rBA
This song makes you feel powerful and important. And it's fun as fuck to dance to, with lyrics like "Wanna piece of this, wanna wanna piece of this?" And "I'm a predator, rapture, I am killin it." Jury is still out on what the fuck that last line means.
13. "Fucking Best Song Everrr" by Wallpaper
https://www.youtube.com/watch?v=pr7pEzgW_7Y
Just celebrate with friends when you listen to this song, because who needs a boyfriend or girlfriend when you have your best friends? "Best friends, you are my fucking best friends, seriously it's like the best night ever." Apparently you also don't need any type of creative lyric writing skills when you have your fucking best friends either.
Art by Shawna Rabbas