Cash Cash Takes 'Cuse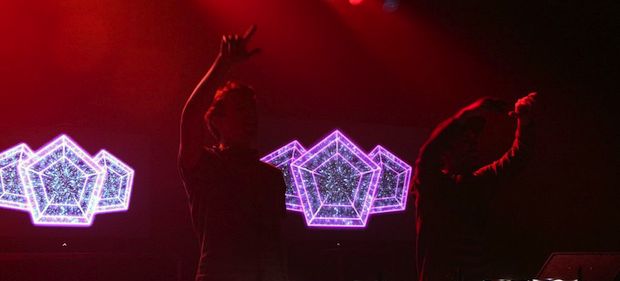 Three words: Temporary. Hearing. Loss. Those are honestly the only words I can use to describe what went down at the Cash Cash concert this past Wednesday. But, this is honestly one of the few times I can say I was glad to leave a concert with my ears literally ringing because Cash Cash killed it.
Cash Cash had two opening acts for their show. The first one was SU sophomore and a good friend of mine, Julian Nelums (aka Kuliono). He won University Union's student DJ competition which required contestants to send in 15 to 20 minute original mixes for a chance to open up the show. (You can hear his winning mix here.)
Julian performed a 30 minute set filled with trap, EDM, hip-hop, and pop hits that had the crowd dancing the whole time, with a casual smoke machine. With the crowd not really knowing what to expect, Julian was a solid opening performance and turned out to be a pleasant surprise.
The second opening act was Almond, a producer and DJ straight out of Buffalo, N.Y., who prides himself on "changing the way EDM should be made." And he definitely kept good on his promise. From EDM remixes of the theme songs from Drake and Josh and Full House, Almond made sure to do his best to keep the energy up for his entire set. While his energy and crowd interaction was great, his song selection and drops were definitely up to my personal preference.
Last but certainly not least were the headliners: Cash Cash. I got the chance to interview them before the show (make sure to look out for that article next week), and they were really cool guys. JP and Sam were the only two members performing, leaving third member, Alex, back at the studio working on music, which is a common occurrence with most of their live shows.
JP and Sam ran onstage to a unanimous roar from the crowd and opened with the oh-so personal "What's up Syracuse?!" They opened with a remix of "Take Me Home" and for over an hour straight took the audience on an EDM-filled journey of dancing and fist pumps. What captured my attention the most were the 3 LED screens behind them that flashed colorful and unique designs with variations of their logo and faces that made the performance aspect of it especially enjoyable for the audience. The smoke machine was the perfect final touch to set the atmosphere — and strangely tasted/smelled like hookah (I'm not complaining). After closing the show with hits "Surrender" and "Take Me Home," the duo bowed out and even took the time to take selfies with some lucky audience members.
This was one of the best concerts I've ever been too simply because all three acts had their own unique sound and held the audience's attention the entire time. Cash Cash hands down exceeded my expectations and I can't wait to see what the future holds for them.
Photos by Jacob Pirogovsky