Chatting it Up With Cash Cash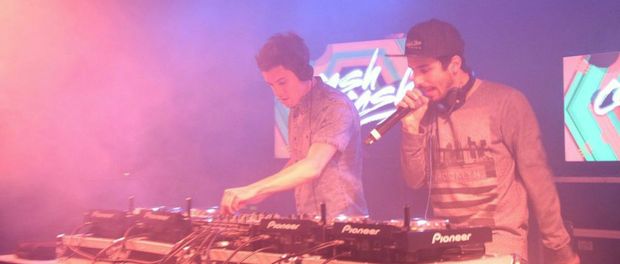 Just in case you've been living under a rock, EDM group Cash Cash came to 'Cuse this past week and killed it. Luckily, I got a chance to sit down with them before their set where we talked about everything from their hit-making process to their dream collaboration.
Cash Cash is comprised of brothers Jean Paul Makhlouf (aka JP), Alex Makhlouf, and Sam Frisch. Unfortunately, JP and Sam were the only members present at the concert as Alex stayed back in the studio. (Fortunately, though, that means new music is on the way!) JP assured me that this was no issue, and that the group usually only brings two members along when they do live shows, with some exceptions. When asked about their group dynamic as a trio in the studio, JP explains, "We've got a really good dynamic. My brother and I, we obviously fight because we're brothers, and Sam is the one who can kind of neutralize the situation and keep us both grounded and be the one to tell us we're both assholes [laughs]. We all shine in different ways and come together and work really well."
As far as Cash Cash's song-making process goes, JP says, "That honestly changes from song to song. For instance, 'Take Me Home,' 'Lightning,' and 'Surrender,' those three songs were pretty much made with us all together in a room with the artist. For 'Take Me Home' Bebe [Rexha] was in her home studio and we were just working it out that way, but sometimes, like with our song 'Hideaway' on our EP, we just got the a Capella. She made the song, she sang it, and we just made the music for that."
Although they're known for remixing popular songs, the trio actually turns down a lot of offers. "A lot of times people will come to us and we'll deny stuff we don't like. If the label hits us up to remix a song we'll be like no, it's not worth the time and effort especially when there's so much to do. I personally think the vocals are important for a remix — the artist's voice… like when we did the Capital Cities remix we just thought 'Safe & Sound' was such a good song, it wasn't even a hit at the time. Ad after we did that we saw it go from just a random song to a hit, and it's cool because you feel attached to it. We helped out a bit and helped bring it to the club."
With the trio's popularity only getting bigger, it's no secret that more and more artists are going to come to them asking to work together. When asked about dream collaborations, the guys elaborated, "There's so many: Katy Perry, it would be cool to do an actual song…We're trying to reach out to a bunch of hip-hop guys right now and we've talked to Busta Rhymes. We're doing something with B.o.B that's going to be really cool. We're always trying to do new stuff and try new shit."
The guys were really chill and laid-back, which was surprising since of times artists are either anxious or nervous before shows. But these guys are clearly professionals. Their honest yet interesting responses made me realize howthese guys really are regular guys who just so happen to make hit songs like it's nothing.
Cash Cash killed their set and this made me a much bigger fan. It's going to be fun to see what these guys do next.
Photos by Jacob Pirogovsky