Happy Birthday, Britney Spears (and Everyone Else)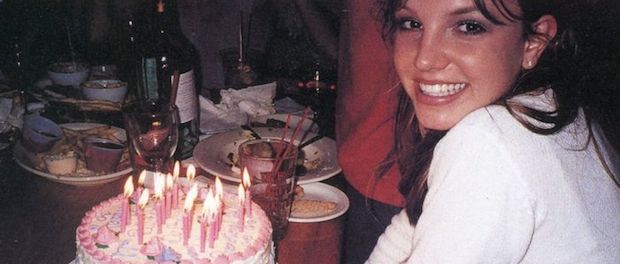 Happy Birthday to the world's December 2 babies! Not only is it my birthday, but it is also Britney Spears's birthday. Throughout my ripe adolescent years, I would consistently remind people that I, "share a birthday with Britney Spears!" under the assumption they would freak out regardme as the second coming of Christ or the inventor of sliced bread. Then I realized no one really cared. It's not that they didn't care because Britney isn't relevant (because she most definitely is), they didn't care simply because everyone is Britney Spears.
Rewind to a time when Britney was in her true prime. With singles "…Baby One More Time," "Lucky," and "I'm A Slave 4 U", her fame was so next-level that no one could touch it. Someone with this much star power might not seem relatable, but you can FINALLY feel that connection because you have been Britney Spears all along. Your mailman has been Britney Spears all along, your dad has even been Britney Spears all along. Here's how we all, at one time or another, have been Britney Spears.
1. We've struggled with people taking us seriously.
We've all had those days when we are ready for responsibility, but our parents won't let us stay out past 11 p.m. We scream the Britney lyrics, "I'm not a girl! Not yet a woman!" and our parents were reminded that we're growing up and that their daughter/son is actually Britney Spears.
2. We've dreamed a glamorous life.
We've lip-synced our hearts out and choreographed a dance number to a pop classic and then flashed back to reality and realized we've been singing into our hairbrush. Relax, we've had that glamorous life all along. Don't believe me? Spears explains why our tears come at night in her jam "Lucky."
3. We've rocked the Canadian Tuxedo.
Whether we're grocery shopping in a J.Crew denim button up and jeans, or walking the red carpet in an all denim gown, we've experienced it. The paparazzi won't leave us alone and Katy Perry and Riff-Raff want to be us. We're living a tough life, but we just need to hang in there.
4. We've been accused on lip-synching.
We are artists and artists should be not questioned.
5. We've had tough times.
Ever been so frustrated you wanted to pull your hair out? We've been there. We've even gone through it with it sometimes. Has someone ever insulted you to the point you wanted to attack with an umbrella? We've been there too... well, not quite, but almost.
6. We've been an ambassador for a carbonated beverage.
We worked really hard on this campaign and it should be remembered.
7. We've gotten "ratchet."
Sometimes we want to have a fun night out on the town. We pull our wig out and adopt our alter-ego and go out dancing (My alter-ego's name is Hannah and she is a Kappa Kappa Gamma legacy. What's yours?!)
8. We've had bad relationships.
We've had boyfriends/girlfriends who our friends despise. We've married in Vegas and then paraded about the town with our wedding party clad in matching velour jumpsuits. We obviously then starred in our reality show about our "chaotic" marriage.
9. We love Starbucks.
There was a point in time where we loved Starbucks and would not be seen in public without it. People would take our picture with it and criticize, but we remained loyal to our favorite branded beverage.
10. We've had "performances" we'd rather forget.
We've performed live on the MTV Video Music Awards in nothing but thigh-high stripper boots, sparkly under-garments, a blonde wig, and our dignity. Sure this may not have been our proudest moment, but we've given a hell of performance before.
11. We've worn red body suits or at least paraded around with a snake.
People may say that time we wore a skin-tight red body suit or carried a python around our neck was iconic, but it was merely just another day in the office.