Make Art, Not War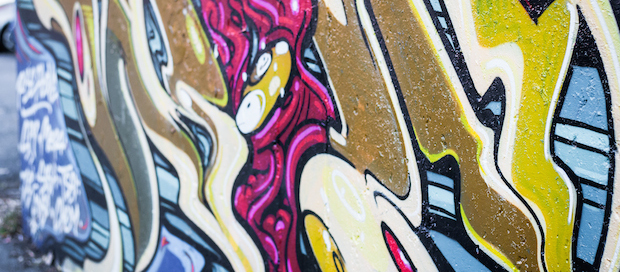 By Joshua Race + Photography by Jenny Hale
Down the back alleyway of Marshall Street, across from Funk 'n Waffles and Hungry Chuck's, lives the vibrant mural made last April by Syracuse University's Students of Sustainability. Members of the 2-year-old student group that emphasizes environmental awareness and responsibility for SU students created the mural as its first official project. As people bustle past Chuck's, they see the mural that boldly replaces what used to be a dark, black wall that the city originally painted over in response to vandalism. Today, the wall lights up the far side of the alley, giving the street new warmth and brightness.
SOS had around 15 members at the time it produced the mural. Even as a low-budget project funded by Sustainability Initiatives, the mural was SOS's biggest project yet.
The mural consists of a tree with an octopus morphing out of its branches, a Syracuse Orange-themed planet, the sun, and a solitary human. "It's about being connected, being passionate about what you love, and empowering the community," says Christine Edgeworth, co-president of SOS. According to Edgeworth, "the octopus represents how everything is connected and how environmental and non-environmental actions affect the world around us."
The central tree is made up of a weekend's worth of recycled glass bottles from Chuck's. Students made the moon portion of the mural—which has been vandalized again— out of old records that Funk 'n Waffles donated to the project.
SOS hopes that people passing the mural will recognize their part to play: working with the world, not against it. To emphasize the organization's central belief, a Leonardo da Vinci quote is painted beside the octopus: "Learn how to see. Realize that everything's connected to everything else." The group intends to connect students with both the natural world and the people around them. "Our influence on the environment will never change, it's just how we use that influence," Edgeworth says.
This article originally appeared in the November 2014 issue of Jerk.