Otto the Orange's Summer Plans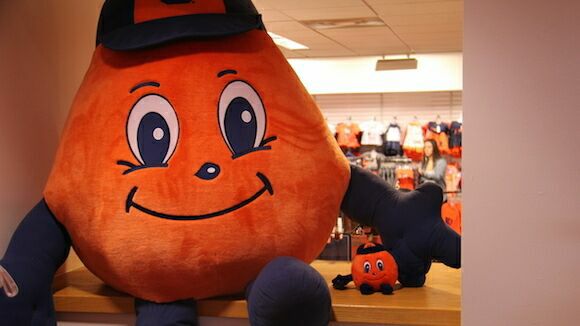 As students and faculty return home for the summer, leaving behind the (finally) sunny Syracuse, some members of the community stay behind. One of the more iconic members is Otto the orange, the school's round, orange, fun-loving mascot.
Instead of traveling home, Otto remains at school for a portion of the summer, training and getting ready for the next sports season. Who knew being a mascot is so much work?
There are many myths about how and what exactly Otto does on a regular basis. During the school year, fans can spot the ball-shaped figure running up and down the field dancing and pumping up the crowd. Over the summer, the orange mascot makes appearances at a variety of events such as birthday parties, local sports games, and other school events.
The force within mascot itself is not just one person. Up to six Syracuse University students slide on the orange costume at some point during the year, all of varying ages and genders. Tryouts take place at the end of each school year in the Carrier Dome, and hundreds of students compete for the chance to be the Otto.
After the tryouts take place in May, students spend the rest of the summer learning routines, cheers, and general actions that promote the spirit of Syracuse.
"Trying out to be Otto the orange was definitely an experience that was out of my comfort zone," says freshman Christana Psyhojos, who tried out last year for the position of Otto. "During tryouts, I nervously prepared myself to do everything to the best of my ability."
The process itself is very rigid, with many rounds of cuts and many different stipulations, according to Psyhojos. After the final selection round, the Ottos are invited to a training camp that takes place later in the summer. The camp is hosted annually at different universities across the country.
The students selected to be Otto will travel alongside the cheerleading team – a group Otto often works with throughout the school year. At the camp, Otto will follow along with some cheerleading routines, and learn his or her own personal routine to perform in front of the student body in the fall.
Next time you watch Otto run up and down the court or break into a funny dance, consider the sheer amount of time and effort it takes to become the icon of Syracuse University. For many, being a mascot does not seem like a ton of work, but for Otto, it's a career. As students go off on their summer endeavors, Otto will remain, continuously trying to get better.
Photo by Adham Elsharkawi