Show Some Love for Americana Music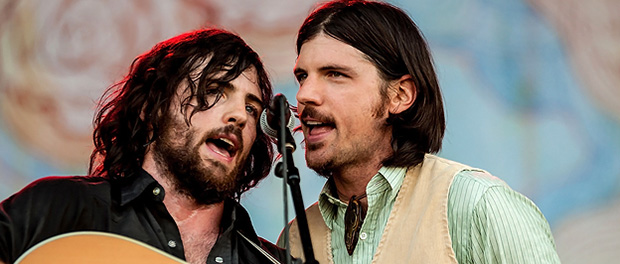 Over the last few years, Americana/folk and bluegrass music has been on the rise. To be clear this is not the same as country music, but merely a distant cousin. Zac Brown Band treads the line between the genres, just to give you and idea of what I'm talking about.
Raise your hand if you like the song "Wagon Wheel" by Old Crow Medicine Show — hands for the Darius Rucker's version don't count. (Side note — is anyone else still not over the fact that Darius Rucker was the lead singer of Hootie and the Blowfish?) Anyway, if your hand is not up for this song, I have no words for you. I was lucky enough to enjoy a live version from the pit at Delfest in 2013 and there are few moments I've enjoyed more than that. Part of the fun of this genre is that there are some songs where you can't help but wrap your arms around your friends, sway back and forth, and belt your heart out.
Acts like the Avett Brothers have been popping up at some of the most prominent festivals like Bonnaroo and Lollapalooza. It's hard not to love the rugged Scott Avett and his brother Seth's braided pigtails — I'm a sucker for a man with a beard and a banjo. The Avett Brothers, who are veterans to the scene, put on a phenomenal, energetic show with moments of sentimentality. Every time I've seen them play "I and Love and You," people seem to always have tears in their eyes. It's beautiful. The Avett Brothers are exemplary of what Americana music is all about.
When I attended Bonnaroo last summer, I saw the likes of Yonder Mountain String Band and Greensky Bluegrass playing on their main stage. These bands take bluegrass sound and perform as a jam band, building to climaxes and releasing into bouncing grooves that you can't help but tap your toe, bob your head, or jump around to. Greensky Bluegrass, my personal favorite of this genre, recently released their new album If Sorrows Swim, but if you want to get a feel for what they're really all about, their live albums are where it's at.
If you're into a more mellow vibe, check out Sarah Jarosz. She's an amazing songwriter and has one of the most soothing voices I've ever heard. You might also be familiar with the folk sister-duo, First Aid Kit. Their song "My Silver Lining" became a hit over the summer, and the rest of their album, Stay Gold, is equally notable.
If you're interested in seeing some of these bands live, Newport Folk Festival, Bonnaroo, Delfest, and the Americana Music Festival are the places to do it. You'll have the time of your life.