The Return of the Dutchess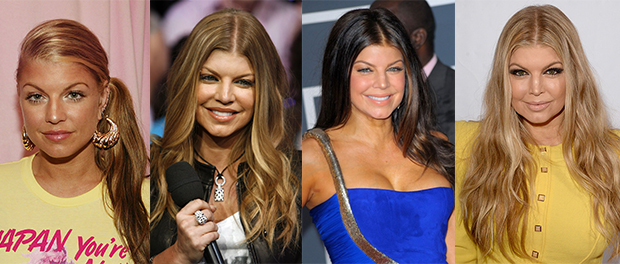 It's definitely not 2006 anymore, but that's not stopping the 39-year-old "Dutchess" herself, Fergie, from making her return to the mainstream music scene with her brand new single, "L.A. LOVE (la la)." Eight years removed from her widely successful solo debut, "The Dutchess," Fergie is back with plans to stay, and will release her second album later this year (YAS).
After Fergie joined the Black Eyed Peas in 2002, the group experienced worldwide success with numerous top ten hits on the Billboard charts. But after establishing success within the group, Fergie wanted to release a solo album — an autobiographical album that created a more intimate listen for her audience. Fergie's "The Dutchess" spawned
six
bonafide hits including, "London Bridge," "Fergalicious," "Glamorous," "Big Girls Don't Cry," "Clumsy," and "Finally." If the titles of those songs don't bring back the nostalgia of your middle school ringtone, then you were clearly deprived, because Fergie dominated airways from 2006 to 2007. After winning numerous awards and establishing herself as the pop star to beat, Fergie returned to the Peas in 2009. Fergie's return marked
even more
success for the group with chart toppers like, "Boom Boom Pow," "I Gotta Feeling," "Meet Me Halfway," "Imma Be," "The Time (Dirty Bit)," and "Just Can't Get Enough."
However, with the return of Fergie to the mainstream as a solo act, one can only beg the question: Can she repeat or even exceed the success of "The Dutchess"? The shift in pop music has drastically changed over the past 8 years and honestly, aside from Beyoncé and Britney Spears, I can't even think of any pop star that had success in 2006 that is still currently dominating the charts today. As frightening as that statement is, it just goes to show that consistency and longevity in the music industry is hard to come by for pop stars. With Fergie turning 40 years old next year, you can check the pop charts and realize that her current peers are nothing but twenty-somethings who are trying to emulate legacies similar to Fergie, Britney Spears, and Beyoncé.
Good news, Fergie fans: she has something that gives her an edge on the competition of the younger pop stars of today — adaptability. Fergie is one of the few artists who gladly welcomes experimentation across different genres such as hip-hop, reggae, punk-rock, pop, and soul, and makes them into her own sound. She also isn't afraid to sing about different themes from her personal life, to her drug abuse, to love.
With a constantly changing soundscape of mainstream pop music, which is now a more hip-hop influenced sound, it works out in Fergie's favor. As soon as you turn on Fergie's new single "L.A. LOVE (la la)" you hear DJ Mustard's signature, "Mustard on the beat hoe" over a too familiar West Coast club beat. But Fergie's ability to rap and sing so effortlessly over the beat makes you realize she can make hits no matter the genre. That ability is what makes her the undisputed "Dutchess."