Trader Joe's is Coming to Town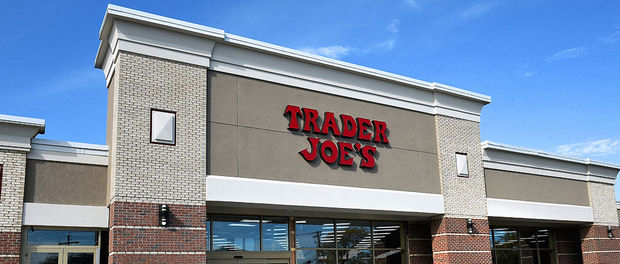 Move over, Wegmans — Syracuse has a new grocery store for everyone to obsess over. Oh yes, Trader Joe's has finally arrived. Health gurus, hipsters, and everyone in between can finally let out a sigh of relief, because Trader Joe's opens in Syracuse on Friday, October 3 at 8 a.m. The store, coined as "your unique grocery store," will likely be a new hub for SU students and locals alike.
In today's world where we are constantly bombarded with the idea that "more is better," Trader Joe's offers consumers a different kind of shopping experience. While typical chain grocery stores stock over 50,000 items — I'm looking at you, Wegmans — a Trader Joe's only carries approximately 4,000 items. While the store doesn't give consumers the option to buy tampons and produce at the same place, they still offer a lot of products you won't find anywhere else (already dreaming about Trader Joe's Mandarin Orange Chicken, it's fine).
We asked students across campus about their undying and unwavering love for Trader Joe's. Here's what they said.
"I love Trader Joes! It's where I shop back home; I am all about the organic food. But I don't think it's that practical. It's so expensive for college students and my perception of locals is that it doesn't seem up their alley. Who knows how they will do, but with their prices and how much preparation their food requires there is no way it will replace Chipotle." — Ellie Breslin, sophomore
"I'm excited. In NYC I went to it all the time. Cookie butter...that's all I have to say." — Nicholas Jones, senior
"I'm so excited about it. I was really surprised because I have low expectations for Central New York, but I'm glad that we'll have more variety. Plus it's 'betchier' than Wegmans" — Zoë Malliaros, sophomore
"I'm pumped! Trader Joes is one of my favorite grocery stores with its unique setup and interesting products. I like how they have their own brand and the products they produce are good quality. Its not too expensive so I feel it will do well with all the Syracuse students" – Matthew Schiff, freshman
Although many students are overly excited (to put it lightly) about the store's opening day, some students are not so hot on Trader Joe's.
"I'm not really big on Trader Joes, but I think Wegmans will definitely still be the favorite grocery store in Syracuse. Wegmans is like the Disneyland of grocery stores because they have so many options between big brand items and all of the organic and healthy products too that they sell too and I have a hard time believing that central New Yorkers will stop going to Wegmans and end up at Trader Joe's." — Cameron Spera, sophomore
"Personally I'm not the biggest fan of Trader Joes. I like it, but it is really hard to find gluten-free food in their stores because they put it with the 'regular people' food. I'll probably go a couple of times, but I think I'm going to mostly shop at Wegmans." — Hannah Scollins, sophomore
"Uh, to be completely honest, I don't really care. I actually just found out today that it was coming. There are Trader Joes everywhere in NYC, and even there I've never really gone. All I know is that it's quite expensive, and I won't be buying my groceries there." — Alexander Lai, Junior
So are you pumped or meh about the opening of Trader Joe's in Syracuse? Tweet @jerkmagazine with pictures of your grocery cart. We promise we won't judge you for the excessive amounts of Triple Ginger Snaps — don't worry, we're hooked on them too. And if you're not into Trader Joe's, you clearly have yet to taste the ginger snaps #justsaying.