Top 10 Places to Eat With Your SUpercard Money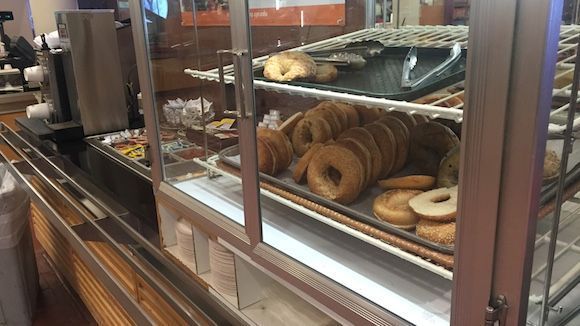 Every now and again students need a break from the monotony of dining hall food or their kitchens. But what's one to do when they want to change it up for lunch? Marshall Street is too far a distance to walk in this weather, so we're left to food that's sold on campus.
Don't worry though, you can hit up some of these places and get some good food by just using your SUper card (aka the fake money on your SU ID that goes straight to your bursar account).
10. Pages (Bird Library). Pages Cafe is really only a solid option when you're stuck in the library and want to avoid homework by eating everything in site. Although the ingredients can be a bit questionable, it is pretty hard to fuck up a wrap and so these are probably your best bet.
9. Kimmel. It used to be the go to place for late night drunk food on campus, but someone thought it would be a good idea to get rid of the KFC, Burger King, and Taco Bell #RIP. Thankfully the Haagen-Dazs counter survived the purge and is definitely the thing to hit up in Kimmel.
8. Olsten Café. This café is pretty much unknown to anyone who doesn't spend their days in Whitman, but it is a great place to grab a sandwich in-between classes or business meetings. Beware of frat boys who think they are the next Donald Trump.
7. Food.com. This is the go-to café for Newhouse students. And just like the students in Newhouse, this place is way too cool for school — I mean it has a ".com" in its name. Food.com is one of the few places on campus that has pesto sauce available for sandwiches and wraps, so this alone makes it worth the risk of catching a case of the keens from hype Newhouse kids.
6. Schine. Located right in the middle of campus, Schine is a pretty solid option for down time in between classes. The lines at Dunkin can be pretty intense, so it may not be your best bet for coffee, but the quesadillas are worth it no matter what. The honey mustard grilled chicken wraps are also always an awesome go-to.
5. Blinker Deli. Located in HBC, Blinker is a great place to make a stop for a quick bite to eat. Their bagels are a great way to start your day, but be strategic, as the line can get long during prime in between class times.
4. Goldstein Student Center (South Campus). If you're stuck on South and can't get to main campus, Goldstein is pretty much your only option. Although it may not be what you're craving, their salads are great and fresh. This is also a great place to stock up on groceries if your real people money mysteriously disappeared at the bar.
3. Life Sciences Freshens. If you need a smoothie, a breakfast sandwich, some soup, or some coffee, then Freshens is the place for you. If for some reason you have a Friday morning class, a sausage, bacon, egg and cheese bagel is a great way to get rid of the fish bowl taste that may or may not be lingering in your mouth. Freshens smoothies have also never failed as an afternoon pick up.
2. Slocum Café. Slocum is a hidden gem on campus. They have a wider selection of breads and toppings to choose from, and make a bomb panini. Their cranberry chicken sandwiches are legendary, and great if your feeling like you need to switch it up. It is also a well kept secret that on Tuesday's they have a buff chicken special sandwich that is out of this world.
1. Goldstein Alumni and Faculty Center. This is probably the best and least known place on campus. If you haven't already been to Faculty for lunch, do yourself a favor and go this week. They have an extensive menu, which is great for making you not feel like a broke twenty something for at least an hour or so. It's pretty hard to go wrong at Faculty, but the cheese-filled break sticks are a must.
Photo by Adham Elsharkawi